Ingin Kabur ke Indonesia, Najib Razak Dicekal begitu Mahathir Berkuasa
Malaysia`s Scandal-mired Najib Hit with Travel Ban after Poll Loss
Editor : Ismail Gani
Translator : Novita Cahyadi

PUBLISHED: Minggu, 13 Mei 2018 , 16:51:00 WIB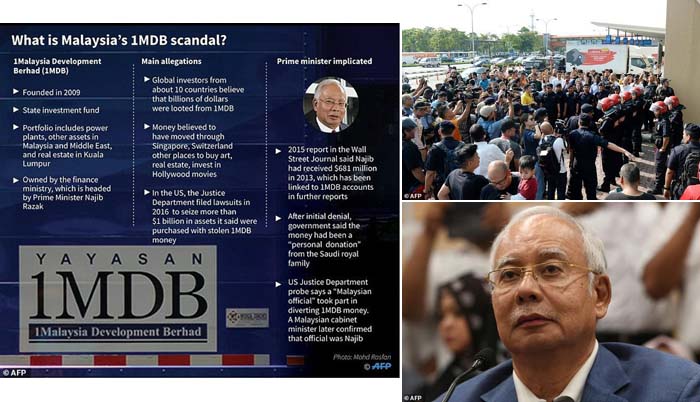 Foto2: AFP/MailOnline
MANTAN Perdana Menteri Malaysia Najib Razak dijatuhi sanksi pencegahan ke luar negeri atau cekal pada Sabtu di tengah spekulasi kuat bahwa Najib akan melarikan diri dari Malaysia setelah kekalahan dalam pemilihan umum yang mengejutkan,

Mantan pemimpin Malaysia Najib Razak dipukul dengan larangan perjalanan Sabtu ketika spekulasi meningkat bahwa dia akan melarikan diri dari negara itu menyusul kekalahan pemilihannya yang mengejutkan, dalam upaya yang mungkin untuk menghindari penuntutan atas skandal multi-miliar dolar.

Massa yang marah berkumpul di bandara Kuala Lumpur, meneriaki konvoi kendaraan dan berusaha menghentikan mereka masuk, setelah jadwal penerbangan yang diklaim bocor secara online memperlihatkan bahwa Najib dan istrinya yang dikecam publik berencana untuk pergi ke Indonesia.

Kekalahan koalisi Barisan Nasional (BN) dalam pemilihan di tangan aliansi yang dipimpin oleh mentor Najib, Mahathir Mohamad, merupakan gempa politik, yang menggulingkan rezim yang semakin otoriter yang telah memerintah negara itu selama enam dekade.

Pada usia 92, Mahathir menjadi pemimpin negara tertua di dunia. Mantan otokrat sebelumnya menjabat sebagai perdana menteri selama lebih dari dua dekade dan merupakan pendukung BN.

Namun dia keluar dari BN saat menjalani masa pensiun dan membelot ke oposisi dalam upaya untuk menggeser Najib atas tuduhan bahwa sejumlah besar dijarah dari dana kekayaan 1MDB, yang berada di bawah kendali Najib.

Sejak kemenangan oposisi, raja Malaysia sepakat untuk memaafkan politisi terkemuka Anwar Ibrahim - mantan musuh bebuyutan yang menjadi sekutu Mahathir - dalam sebuah langkah yang dapat membuka jalan baginya untuk menjadi perdana menteri. Anggota senior partainya mengatakan dia diperkirakan akan dibebaskan Selasa.

'Daftar Hitam'
Spekulasi meningkat bahwa Najib berupaya mencoba untuk melarikan diri dari negara itu karena Mahathir berjanji untuk menyelidiki kontroversi 1MDB jika dia memenangkan kekuasaan.

Sebuah foto dari manifes penerbangan yang bocor untuk
penerbangan jet pribadi ke Jakarta menyebar cepat melalui online, Najib menyangkal tudingan tersebut dan mengaku hanya ingin "istirahat sejenak" di luar negeri untuk beristirahat setelah pemilihan dan akan kembali ke Malaysia pekan depan.

Namun kegusaran publik dengan cepat meningkat di kalangan pengguna media sosial yang menuduh pemimpin yang kalah berusaha melarikan diri, dan departemen imigrasi dengan cepat mengumumkan bahwa ia dan istrinya, Rosmah Mansor - dibenci publik karena gaya hidupnya yang boros - dilarang meninggalkan Malaysia.

Mahathir menegaskan dia telah mengeluarkan perintah untuk mencekal keduanya meninggalkan Malaysia.

"Benar bahwa saya mencegah Najib meninggalkan negara ... dia dan istrinya," katanya dalam konferensi pers.

Ketika ditanya apakah pembatasan pada Najib adalah karena 1MDB, Mahathir mengatakan: "Ada banyak keluhan terhadap (Najib) yang semuanya harus diselidiki ... kami mendapati bahwa beberapa tudingan itu valid."

"Kami harus bertindak cepat karena kami tidak ingin dibebani dengan masalah ekstradisi dari negara lain."

Anwar Ibrahim Bebas
Sebelumnya, ketika puluhan orang turun ke bandara dalam upaya untuk menghentikan Najib dan Rosmah kabur ke luar negeri, polisi anti huru-hara ditempatkan di gerbang bandara tempat diyakini Najib akan masuk.

Ketika sebuah van putih dengan jendela berwarna gelap mencoba untuk lewat, kerumunan orang mengelilingi kendaraan dan itu hanya diizinkan lewat setelah mereka menegaskan bahwa Najib tidak ada di dalam.

Setelah dikenai sanksi cekal, Najib kemudian mengumumkan ia mengundurkan diri sebagai ketua BN dan presiden partai utamanya, Organisasi Nasional Bersatu Melayu (UMNO), menyusul kerugian bersejarah.

Mahathir juga mengumumkan tiga menteri pertarma yang masuk ke kabinetnya - Lum Guan Eng sebagai menteri keuangan, Muhyiddin Yassin sebagai menteri dalam negeri dan Mohamad Sabu sebagai menteri pertahanan.

Dia memecat Jaksa Agung Mohamed Apandi Ali, yang membebaskan Najib dari kasus 1MDB dan menutup pemeriksaan kasus hukumnya, karena dianggap tidak mampu melaksanakan pekerjaan sebagai jaksa agung.

Dia mengatakan pemecatan dilakukan pada sejumlah pejabat tinggi negara orang-orang yang dicurigai terlibat kasus 1MDB, seraya menambahkan: "Saat ini, Malaysia tidak memiliki seorang jaksa agung."

Xavier Jayakumar, wakil presiden partai Anwar Ibrahim, mengatakan ketua partainya yang sedang dipenjara diperkirakan akan dibebaskan dari penjara pada Selasa.

Anwar Ibrahim adalah kandidat pewaris kekuasaan Mahathir tapi kemudian memecatnya pada 1998 dan dia kemudian dipenjara karena sodomi dan penyalahgunaan kekuasaan.

Namun dalam perubahan haluan yang luar biasa, pasangan ini berdamai dan bergabung sebagai kekuatan baru untuk melawan 1MDB dan Najib yang semakin otoriter.

Anwar, kini 70 tahun, dipenjarakan lagi pada 2015 selama pemerintahan Najib dan akan dibebaskan bulan depan seperti dikutip AFP yang dilansir MailOnline.
MALAYSIA'S former leader Najib Razak was hit with a travel ban Saturday as speculation mounted he was about to flee the country following his shock election loss, in a possible bid to avoid prosecution over a multi-billion-dollar scandal.

An angry crowd had gathered at a Kuala Lumpur airport, shouting at vehicles and seeking to stop them entering, after a purported flight itinerary leaked online showed Najib and his unpopular wife were planning to head to Indonesia.

The Barisan Nasional (BN) coalition's defeat in the election at the hands of an alliance led by Najib's one-time mentor Mahathir Mohamad amounted to a political earthquake, which toppled an increasingly authoritarian regime that had ruled the country for six decades.

At 92, Mahathir is the world's oldest state leader. The former autocrat previously served as prime minister for over two decades and was a BN stalwart.

But he came out of retirement and defected to the opposition in a bid to unseat Najib over allegations that huge sums were looted from sovereign wealth fund 1MDB, which Najib set up and oversaw.

Since the opposition victory, Malaysia's king has agreed to pardon jailed top politician Anwar Ibrahim -- a former nemesis turned ally of Mahathir -- in a move that could pave the way for him to become premier. Senior members of his party said he was expected to be freed Tuesday.

- 'Blacklisted' -
Speculation had been mounting that Najib might try to flee the country as Mahathir has pledged to investigate the 1MDB controversy if he won power.

As an image of the leaked manifest for a flight on a private jet to Jakarta spread like wildfire online, Najib insisted in social media posts he was only planning a "short break" overseas to rest after the election and would be back next week.

But anger quickly mounted among social media users who accused the defeated leader of seeking to flee, and the immigration department swiftly announced both he and his wife Rosmah Mansor -- unpopular because of her spendthrift ways -- were banned from leaving Malaysia.

Mahathir confirmed he had issued the order to stop the pair leaving.

"It is true that I prevented Najib from leaving the country... he and his wife," he told a press conference.

When asked if the restrictions on Najib were due to 1MDB, Mahathir said: "There are a lot of complaints against (Najib) all of which have to be investigated... we find that some of the complaints are valid.

"We have to act quickly because we don't want to be saddled with a problem of extradition from other countries."

- Anwar Release -
Earlier, as dozens of people descended on the airport in a bid to stop Najib and Rosmah leaving, riot police were stationed by the gate of the airport where it was believed Najib would enter.

As a white van with heavily tinted windows attempted to pass by, the crowd surrounded the vehicle and it was only allowed to pass after they confirmed Najib was not inside.

After being hit with the travel ban, Najib later announced he was stepping down as chairman of BN and president of its main party, the United Malays National Organisation (UMNO), following the historic loss.

Mahathir also announced the first three appointments to his cabinet -- Lum Guan Eng as finance minister, Muhyiddin Yassin as interior minister and Mohamad Sabu as defence minister.

He suggested Attorney-General Mohamed Apandi Ali, who cleared Najib over 1MDB and shut down domestic probes, was as good as out of a job.

He said restrictions had been placed on people suspected of wrongdoing, adding: "At the moment, we don't have an attorney-general."

Xavier Jayakumar, a vice-president of Anwar's party, said the jailed politician was expected to be released from prison Tuesday.

Anwar was heir-apparent to the premiership until Mahathir sacked him in 1998 and he was subsequently jailed for sodomy and abuse of power.

But in a remarkable turnaround, the pair reconciled and joined forces as allegations mounted over 1MDB and Najib became increasingly authoritarian.

Anwar, now 70, was jailed again in 2015 during Najib's rule and had been due for release next month.