Kejahatan Cyber, Taiwan Protes Indonesia setelah Deportasi 22 Warganya ke China
Taiwan Protests as Indonesia Sends Its Telecom Fraud Suspects to China
Editor : Ismail Gani
Translator : Novita Cahyadi

PUBLISHED: Minggu, 06 Agustus 2017 , 19:46:00 WIB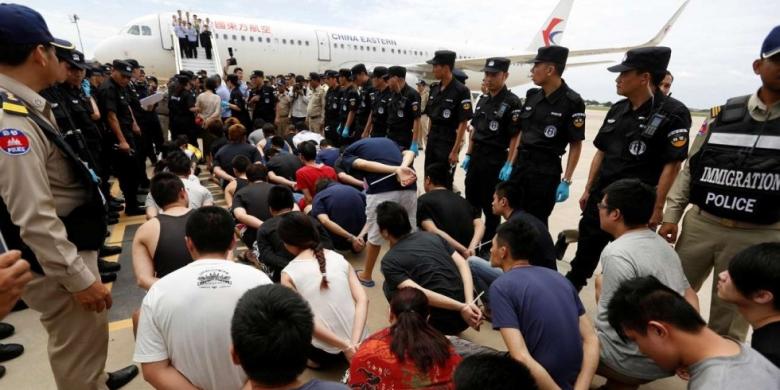 Foto: kompas.com
TAIWAN memprotes langkah Indonesia mendeportasi lebih dari 100 tersangka penipuan online, 22 di antaranya warga Taiwan ke China daratan, dan bukan ke China kepulauan, Kamis setelah Polri didukung Ditjen Imigrasi melakukan deportasi kepada pelaku kriminal lintas negara tersebut.

Taiwan, sampai saat ini dianggap sebagai provinsi yang membangkang oleh China daratan, dan protes serupa dilancarkan Taiwan kepada Vietnam dan Kamboja atas kasus yang sama.

Indonesia, Vietnam dan Kamboja, seperti halnya banyak negara mematuhi kebijakan 'satu China' dengan ibukota di Beijing dan tidak mengakui Taiwan sebagai suatu negara, yang nama resminya adalah Republik China.

China menunda dialog dengan Taipei sejak Juni, sebulan setelah tokoh pro-kemerdekaan Tsai Ing-wen menjabat sebagai presiden Taiwan, karena Tsai menolak untuk menerima "satu China" yang dipegang teguh pemerintah Beijing.

Indonesia mendeportasi 143 tersangka kejahatan penipuan online ke kota-kota di China seperti Chengdu atau Tianjin pada Kamis, menurut pernyataan resmi kementerian luar negeri Taiwan.

Indonesia telah bekerja sama dengan China untuk menangkap 143 tersangka pada Sabtu, kata pernyataan tersebut.

"Kami meminta kunjungan konsulat diplomatik serta bantuan untuk mengidentifikasi orang-orang, dan mendesak Indonesia untuk menangani hal ini dengan adil sesuai dengan undang-undang dan juga untuk menyediakan saluran untuk bantuan hukum kepada warga Taiwan," kata kementerian tersebut.

Taiwan juga menekankan bahwa China dan Taiwan harus bekerja sama untuk menyelidiki kejahatan lintas batas.

"Tapi China secara paksa mengirim warga Taiwan ke daratan China benar-benar mengabaikan niat baik dan permintaan dari pihak kami ... dan berdampak pada perkembangan hubungan lintas negara yang pelik," kata Dewan Urusan Daratan Taiwan.

Kementerian luar negeri China tidak mengomentari kasus tersebut pada Kamis.

China tidak pernah menggunakan kekuatan militer untuk mengembalikan Taiwan sebagai bagian dari China daratan. Nasionalis China melarikan diri ke pulau tersebut setelah kalah dalam perang sipil China dengan Komunis pada 1949 seperti dikutip Reuters yang dilansir MailOnline.
TAIWAN has protested to Indonesia for sending more than 100 telecom fraud suspects, including 22 Taiwan nationals, to China, the self-ruled island said on Thursday, the latest in a series of such deportations.

Taiwan, an island China considers a wayward province, has this year protested to Vietnam and Cambodia for doing the same thing.

Indonesia, Vietnam and Cambodia, like all but a shrinking handful of countries in the world, adhere to Beijing's "one China" policy and do not recognise diplomatic rival Taiwan, whose official name is the Republic of China.

China has suspended dialogue with Taipei since June, a month after pro-independence Tsai Ing-wen took office as Taiwan's president, because Tsai has refused to accept Beijing's "one China" principle.

Indonesia sent 143 suspects to either the Chinese cities of Chengdu or Tianjin on Thursday, the Taiwan foreign ministry said in a statement.

Indonesia had cooperated with China to arrest the 143 suspects on Saturday, the statement said.

"We request a diplomatic consul visit as well as assistance in identifying the people, and urge Indonesia to handle this justly in accordance with the law as well as to provide channels for judicial relief to the Taiwan nationals," the ministry said.

Taiwan also emphasized that China and Taiwan should cooperate to investigate cross-border crime.

"But China forcibly sending Taiwan nationals to the Chinese mainland completely ignores goodwill and appeals from our side...and impacts the healthy development of cross-straits relations," Taiwan's Mainland Affairs Council said.

China's foreign ministry did not comment on the case on Thursday.

China has never renounced the use of force to bring Taiwan under its control. China's Nationalists fled to the island after losing the Chinese civil war with the Communists in 1949.