Terdakwa Bom Panci, Dian Yulia Novi Divonis 7,5 Tahun Penjara Disorot Dunia
Indonesia`s First Female would-be Suicide Bomber Jailed
Editor : Ismail Gani
Translator : Novita Cahyadi

PUBLISHED: Selasa, 29 Agustus 2017 , 20:01:00 WIB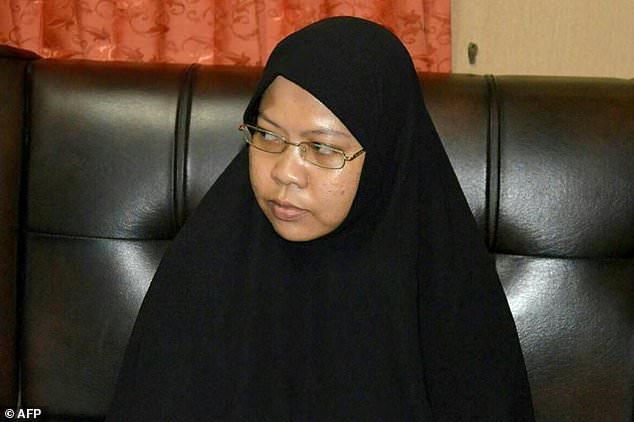 Dian Yulia Novi ditangkap di rumah kosnya dengan bom tiga kilogram yang disimpan dalam mesin penanak nasi satu malam sebelum serangan yang direncanakan ke istana pada Desember (Foto: AFP/MailOnline)
SEORANG wanita dijatuhi hukuman tujuh setengah tahun penjara karena keterlibatannya dalam sebuah rencana yang diilhami oleh Negara Islam ISIS untuk melakukan serangan bom bunuh diri di istana kepresidenan di Jakarta, kata pengacaranya, Senin.

Dian Yulia Novi ditangkap di rumah kosnya dengan bom tiga kilogram yang disimpan dalam mesin penanak nasi satu malam sebelum serangan yang direncanakan ke istana pada Desember.

Novi, seorang mantan pekerja migran berusia 28 tahun yang hamil sembilan bulan, dinyatakan bersalah melakukan tindakan terorisme oleh Pengadilan Negeri Jakarta Timur pada Jumat, pengacaranya mengonfirmasi kepada AFP.

"Hakim mengatakan apa yang telah dilakukannya bertentangan dengan usaha pemerintah untuk memberantas terorisme, dan hal itu menyebabkan keresahan publik," kata pengacara Kamsi.

Ini adalah pertama kalinya seorang wanita dinyatakan bersalah atas sebuah rencana bom bunuh diri di Indonesia dan menyoroti peran aktif wanita dalam ekstremisme kekerasan.

Novi dan suaminya termasuk di antara lima militan yang ditahan karena serangan yang direncanakan tahun lalu.

Seorang wanita lain yang diduga telah merekrut Novi, bernama Tutin Sugiarti, dijatuhi hukuman tiga setengah tahun di penjara pada Jumat, kata Kamsi.

Polisi percaya bahwa kelompok tersebut sangat terkait dengan Bahrun Naim, seorang militan terkemuka Indonesia yang saat ini berperang dengan kelompok Negara Islam ISIS di Suriah.

Banyak warga Indonesia - yang telah lama berjuang dengan militansi Islam - telah berkumpul untuk bergabung dengan ISIS di Timur Tengah, sementara kaum radikal di negara tersebut berjanji setia kepada kelompok tersebut dan serangan dan plot telah dikaitkan dengan para jihadis.

Wanita Indonesia - yang sering diradikalisasi di media sosial - mengambil peran lebih aktif dalam ekstremisme kekerasan, menurut laporan terbaru dari Institute for Policy Analysis of Conflict yang berbasis di Jakarta.

Kamsi mengatakan hakim menyampaikan vonis lebih awal dari yang diperkirakan karena Novi sedang hamil. Dia tidak akan mengajukan banding seperti dilansir MailOnline.
AN INDONESIAN woman has been sentenced to seven-and-a-half years jail for her involvement in an Islamic State-inspired plot to carry out a suicide bomb attack on the presidential palace in Jakarta, her lawyer said Monday.

Dian Yulia Novi was arrested at her boarding house with a three-kilogram bomb encased in a pressure cooker the night before the planned attack on the palace in December.

Novi, a 28-year-old former migrant worker who is nine months pregnant, was found guilty of committing an act of terrorism by the East Jakarta District Court on Friday, her lawyer confirmed to AFP.

"The judges said what she had committed was counterproductive with the government's efforts to eradicate terrorism and that it has caused public unrest," lawyer Kamsi, who like many Indonesians goes by only one name, said.

It is the first time a woman has been convicted over a suicide bomb plot in Indonesia and highlights the more active role women are taking in violent extremism.

Novi and her husband were among five militants detained over the planned attack last year.

Another woman alleged to have recruited Novi, named Tutin Sugiarti, was sentenced to three-and-half years in prison on Friday, Kamsi said.

Police believe the group was strongly linked to Bahrun Naim, a leading Indonesian militant currently fighting with the Islamic State group in Syria.

Many from Indonesia -- which has long struggled with Islamic militancy -- have flocked to join IS in the Middle East, while radicals in the country have pledged allegiance to the group and attacks and plots have been linked to the jihadists.

Indonesian women -- often radicalised on social media -- are taking on a more active role in violent extremism, according to recent report from the Jakarta-based Institute for Policy Analysis of Conflict.

Kamsi said judges delivered the verdict earlier than expected because Novi was pregnant. She would not file an appeal.