Pimpinan Teroris Bom Panci Istana Merdeka Divonis 11 Tahun Penjara
Leader of Indonesia Attack Plot Gets 11 Years in Prison
Editor : Ismail Gani
Translator : Novita Cahyadi

PUBLISHED: Kamis, 21 September 2017 , 21:11:00 WIB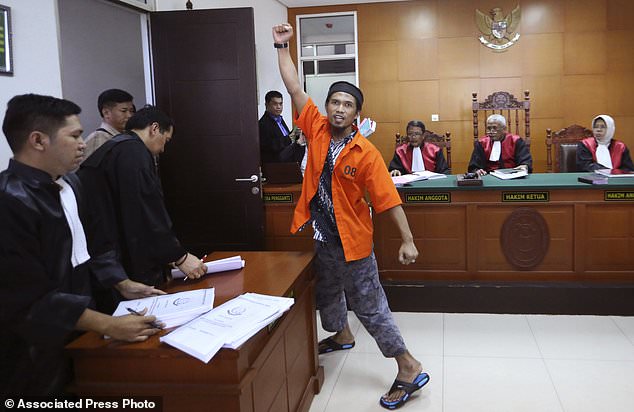 Agus Supriyadi meneriakkan `Allahu Akbar` setelah divonis 11 tahun penjara (Foto: Associated Press/MailOnline)
SEORANG militan Islam Indonesia yang terkait dengan kelompok negara Islam ISIS mengangkat satu jari ke langit setelah pengadilan di Jakarta pada Rabu memvonis 11 tahun karena memimpin sebuah rencana untuk menyerang istana kepresidenan di Jakarta dengan bom panci.

Pada sidang yang sama, seorang rekannya yang divonis hukuman enam tahun penjara, menjabat tangannya dan meneriakkan "Allahu Akbar."

Muhammad Nur Solihin, pemimpin dari kelompok penyerangan, dan Agus Supriyadi ditangkap bersama dua militan lainnya termasuk istri Solihin pada Desember, sehari sebelum rencana serangan mereka terhadap upacara bendera di Istana Negara sebagai kegiatan yang kerap disaksikan warga Jakarta.

Dalam putusannya di Pengadilan Negeri Jakarta Timur, majelis hakim beranggotakan tiga hakim mengatakan tidak ada hal yang meringankan dari tindakan mereka dan dinyatakan bersalah karena melanggar UU antiterorisme.

Pelaku bom bunuh diri yang disebut kalangan teroris sebagai 'pengantin' adalah istri Solihin, Dian Yulia Novi, dihukum 7,5 tahun penjara. Seorang wanita lain, Tutin, menerima 3,5 tahun penjara karena berperan mendorong Novi menjadi 'pengantin'.

Kelompok militan yang menyatakan tidak mau bertobat mengindikasikan tantangan yang dihadapi pihak berwenang Indonesia yang telah memenjarakan ratusan radikal Islam dalam dekade terakhir untuk rencana penyerangan dan serangan. Setelah menjalani hukuman, banyak yang keluar dari penjara yang padat penduduknya dengan komitmen yang lebih besar terhadap radikalisme kekerasan dan hubungan baru dengan militan lainnya.

Indonesia, negara berpenduduk Muslim terbesar di dunia, telah melakukan tindakan keras terhadap jihadis yang kejam sejak pemboman Bali pada 2002 yang menewaskan lebih dari 200 orang, namun upaya untuk melakukan deradikalisasi militan ternyata tidak berlangsung maksimal. Sementara itu, ancaman baru serangan muncul dari simpatisan ISIS.

Dalam sebuah wawancara televisi setelah penangkapan Desember, Solihin mengatakan bahwa dia menikahi Novi sebagai istri keduanya untuk memfasilitasi keinginannya untuk menjadi seorang pembom bunuh diri.

Hakim ketua Syafrudin Ainor Rafiek mengatakan Supriyadi yang berusia 37 tahun membantu transportasi Solihin dan bom untuk serangan dari Jawa Tengah ke kediaman Novi di Bekasi, di pinggir Jakarta.

Solihin yang berusia 27 tahun adalah pemimpin kelompok ekstremis kecil di kota Solo, Jawa Tengah, kata polisi. Isterinya yang berusia 28 tahun berencana untuk mendekati para pengawal kepresidenan selama upacara tersebut dan meledakkan dirinya dengan bom bertekanan tinggi.

Polisi telah menggambarkan kelompok tersebut sebagai bagian dari Jemaah Anshorut Daulah, sebuah jaringan yang terdiri dari hampir dua lusin kelompok ekstremis Indonesia yang dibentuk pada 2015 dan berjanji untuk setia kepada pemimpin kelompok Islam negara Abu Bakr al-Baghdadi seperti dikutip Associated Press yang dilansir MailOnline.
AN INDONESIAN militant linked to the Islamic State group smiled and raised one finger toward heaven after a court on Wednesday sentenced him to 11 years in prison for leading a plot to attack a presidential guard-changing ceremony in Jakarta.

At the same sentencing hearing, a co-conspirator, who received six years in prison, shook his fist in the air and shouted "God is Great."

Muhammad Nur Solihin, the ring leader, and Agus Supriyadi were arrested along with two other militants including Solihin's wife in December, just one day before their planned attack on the popular family attraction at the presidential palace.

In its verdict at the East Jakarta District Court, a three-judge panel said there was no justification for either man's actions and both were guilty of violating Indonesia's anti-terror law.

The would-be suicide bomber, Solihin's wife Dian Yulia Novi, was sentenced last month to 7 1/2 years in prison. Another woman, Tutin, received 3 1/2 years for encouraging Novi to become a suicide bomber.

The apparently unrepentant militants are indicative of the challenge facing Indonesian authorities who have imprisoned hundreds of Islamic radicals in the past decade for plots and attacks. After serving their sentences, many emerge from the country's overcrowded prisons with an even greater commitment to violent radicalism and new links to other militants.

Indonesia, the world's most populous Muslim country, has waged a sustained crackdown on violent jihadis since the 2002 Bali bombings that killed more than 200 people, but efforts to de-radicalize convicted militants have had uneven success. Meanwhile, a new threat of attacks has emerged from Islamic State group sympathizers.

In a television interview after December arrests, Solihin said that he married Novi as his second wife to facilitate her desire to become a suicide bomber.

Presiding Judge Syafrudin Ainor Rafiek said the 37-year-old Supriyadi helped transport Solihin and the bomb for the attack from Central Java to Novi's residence in Bekasi, a Jakarta satellite city.

The 27-year-old Solihin was the alleged leader of a small extremist cell in Central Java's Solo city, police have said. His 28-year-old wife planned to run close to the presidential guards during the ceremony and blow herself up with a pressure cooker bomb.

Police have described the group as part of Jemaah Anshorut Daulah, a network of almost two dozen Indonesian extremist groups that formed in 2015 and pledges allegiance to Islamic State group leader Abu Bakr al-Baghdadi.