Polisi Dapati Banyak Pelanggaran Keselamatan di Pabrik Petasan Tangerang
Indonesian Officials Find Multiple Violations in Deadly Factory Blaze
Editor : Ismail Gani
Translator : Novita Cahyadi

PUBLISHED: Sabtu, 04 November 2017 , 23:11:00 WIB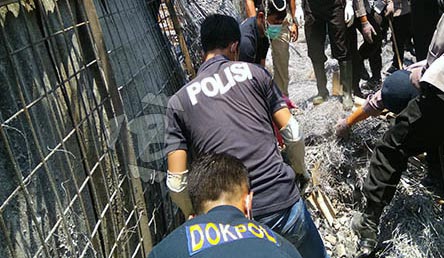 Foto: istimewa
POLISI menyelidiki kebakaran yang menewaskan hampir 50 orang di sebuah pabrik kembang api di pinggiran kota Jakarta akhir bulan lalu menemukan beberapa pelanggaran keselamatan di pabrik tersebut, yang jumlah pekerja melebihi batas maksimal dari kapasitas tempat bekerja.

Salah satu bencana industri terburuk di Indonesia, peristiwa 26 Oktober di kawasan industri padat di Tangerang, mengungkap tentang rendahnya standar keselamatan pekerja yang lemah di Indonesia, ketika peraturan kerap diabaikan atau ditaati sekadarnya.

Hasil penyelidikan polisi dan pejabat berwenang maupun korban selamat menyatakan bahwa pada saat kebakaran, pabrik tersebut dipadati pekerja, hanya ada satu pintu keluar, dan satu alat pemadam api berukuran sedang meskipun dilaporkan ada empat pemadam.

Bangunan pabrik menampung lebih dari 4.000 kg bahan yang mudah terbakar di berbagai lokasi, yang menurut polisi, membuat api menjadi sangat mudah membakar pabrik seluas 2.600 meter persegi tersebut dalam waktu singkat, menewaskan 49 pekerja dan melukai puluhan lainnya.

Korban selamat mengatakan bahwa mereka tidak pernah menjalani pelatihan evakuasi darurat, dan tidak mengetahui rute evakuasi. Kabid Humas Polda Metro Jaya Kombes Argo Yuwono mengatakan tidak ada indikasi siapapun di tempat kejadian mencoba mengatasi kebakaran dengan alat pemadam api.

"Situasinya sangat panik dan api berkobar cepat," kata Yuwono. "Para pekerja tidak pernah menjalani pelatihan evakuasi darurat dan bagaimana mengatasinya atau cara menggunakan alat pemadam kebakaran."

Polisi menahan pemilik dan manajer operasi perusahaan tersebut karena dicurigai lalai sehingga meenyebabkan kematian. Ketiga tersangka menghadapi ancaman hukuman lima tahun penjara jika terbukti bersalah.

Perwakilan perusahaan induk PT Panca Buana Cahaya Sukses mengatakan perusahaan tersebut akan membayar semua perawatan medis yang selamat, namun menolak memberikan komentar mengenai kasus hukumnya seperti dikutip Reuters yang dilansir MailOnline.
POLICE investigating a fire that killed nearly 50 people at a fireworks factory on the outskirts of Jakarta late last month have found multiple safety violations at the plant, which was crammed with three times the number of workers allowed.

One of Indonesia's worst industrial disasters, the Oct. 26 blaze in the congested industrial suburb of Tangerang, has cast a new spotlight on lax safety standards in Indonesia, where rules are often ignored or weakly enforced.

Reuters interviews with police investigators, government officials and survivors show that at the time of the fire, the factory was overcrowded, had only one exit, and a single mid-sized fire extinguisher even though it had reported having four on site.

The building housed more than 4,000 kg of combustible materials in various locations, which, police say, made it all too easy for the fire to rip through the 2,600 square metre factory within minutes, killing 49 workers and injuring dozens more.

Survivors told Reuters they had not had any emergency training or drills, and were not familiar with evacuation routes. Police spokesman Argo Yuwono said there was no indication anyone had tried to use the fire extinguisher.

"It was total panic and the fire was quickly out of control," Yuwono said. "The workers had zero training in how to respond in an emergency or how to use a fire extinguisher."

Police have detained the owner and operations manager of the company on suspicion of negligence leading to death. They face at least five years in prison if found guilty.

A representative for the parent company of PT Panca Buana Cahaya Sukses said the firm would pay for all survivors' medical treatment, but declined comment on the legal case.