Patung Lilin Hitler di Museum De Mata Yogya Bikin Gusar Komunitas Yahudi
Indonesia Museum Removes Hitler Display after Protests
Editor : Ismail Gani
Translator : Novita Cahyadi

PUBLISHED: Senin, 13 November 2017 , 17:14:00 WIB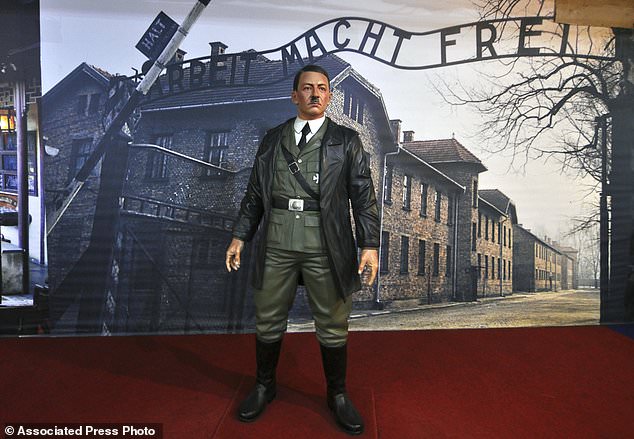 Museum, yang memiliki patung lilin dari sekitar 80 orang terkenal, menampilkan sosok Hitler di ruang pamernya sejak 2014 (Foto: Associated Press/MailOnline)
MUSEUM efek visual Indonesia yang menarik perhatian pengunjung untuk swafoto (selfie) dengan patung lilin dari pemimpin Nazi Adol Hitler dengan latar belakang foto kamp konsentrasi Auschwitz telah disingkirkan dari ruang pamer setelah diprotes banyak pihak di mancanegara.

Staf pemasaran Museum De Mata Trick Eye mengatakan patung lilin Hitler disingkirkan pada Jumat malam setelah
artikel di media internasional menulis tentang hal itu yang membuat gusar kelompok hak asasi manusia dan kalangan Yahudi.

Organisasi Human Rights Watch mengecam museum tersebut dan menyebutnya sebagai hal yang 'memuakkan' dan Simon Wiesenthal Center di Los Angeles, yang giat menentang pemusnahan etnis Yahudi (holocaust) dan anti Yahudi, menuntut patung Hitler segera disingkirkan.

Museum, yang memiliki patung lilin dari sekitar 80 orang terkenal, menampilkan sosok Hitler di ruang pamernya sejak 2014.

Awalnya patung lilin tersebut dianggap "menyenangkan" dan mengatakan bahwa itu adalah salah satu patung lilin yang paling populer bagi pengunjung museum bergaya infotainment di Yogyakarta.

Pada Minggu (12/11), ruang pamer untuk Hitler telah dikosongkan begitu pula dengan foto Auschwitz, tempat yang dahulu digunakan tentara Nazi untuk membantai warga Yahudi.

Ini bukan pertama kalinya Nazisme dan simbol-simbolnya ditampilkan di Indonesia, negara berpenduduk Muslim terbesar di dunia dan dihuni oleh sejumlah kecil warga Yahudi.

Sebuah kafe bertema Nazi di kota Bandung yang menampilkan pelayan mengenakan seragam polisi rahasia Nazi SS juga membuat gusar dunia nternasional setelah sekian lama ditampilkan dan dilaporkan telah ditutup pada awal tahun ini.

Pada 2014, sebuah video musik yang dibuat oleh bintang pop Indonesia Ahmad Dhani untuk mendukung kampanye calon presiden Prabowo Subianto memicu kemarahan setelah tampil dengan nuansa Nazi seperti dikutip Associated Press yang dilansir MailOnline.
AN INDONESIAN visual effects museum that encouraged visitors to take selfies with a waxwork of Hitler against a giant image of the Auschwitz extermination camp has removed the exhibit after protests.

The De Mata Trick Eye Museum's marketing officer said the statue was removed Friday night following an Associated Press story highlighting outrage from Jewish and rights groups.

Human Rights Watch had denounced the exhibit as "sickening" and the Los Angeles-based Simon Wiesenthal Center, which campaigns against Holocaust denial and anti-Semitism, had demanded its immediate removal.

The museum, which has waxworks of about 80 famous people, had the Hitler figure on display since 2014.

It initially defended the exhibit as "fun" and said it was one of the most popular waxworks with visitors to the infotainment-style museum in the central Java city of Yogyakarta.

On Sunday, the space at the museum occupied by Hitler was empty and the image of Auschwitz, where more than 1 million people were exterminated by the Nazi regime, was gone.

It was not the first time Nazism and its symbols have been normalized or even idealized in Indonesia, the world's most populous Muslim nation and home to a tiny Jewish community.

A Nazi-themed cafe in the city of Bandung where waiters wore SS uniforms caused anger abroad for several years until reportedly closing its doors at the beginning of this year.

In 2014, a music video made by Indonesian pop stars as a tribute to presidential candidate Prabowo Subianto stirred outrage with its Nazi overtones.