Hasil `Quick Count` Pilkada 2018 Ekspresikan Partai Pendukung Jokowi Unggul
Unofficial Counts Show Regional Indonesia Polls Favouring President Widodo
Editor : Ismail Gani
Translator : Novita Cahyadi

PUBLISHED: Kamis, 28 Juni 2018 , 01:02:00 WIB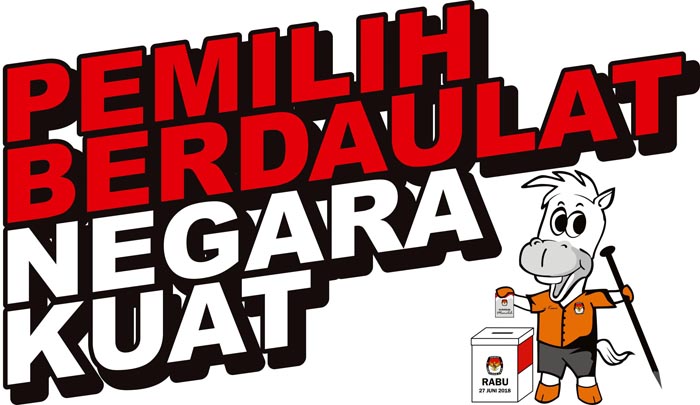 Sketsa: istimewa
HITUNG CEPAT hasil Pilkada Serentak 2018 pada Rabu menempatkan para kandidat kepala daerah yang mendukung Presiden Joko Widodo unggul di tiga provinsi ´lumbung suara´ di Jawa, pulau yang dihuni lebih dari separuh populasi negara demokrasi terbesar ketiga di dunia.
Namun para kandidat kepala daerah yang didukung oleh partai oposisi bernasib lebih baik dari yang diharapkan dalam Pilkada, yang merupakan indikator penting untuk Pemilu Legislatif (Pileg) dan Pemilihan Presiden (Pilpres) pada 2019.
Beberapa pemimpin Islam garis keras secara terbuka menyatakan ambisi politiknya untuk menyingkirkan Presiden Joko Widodo, yang telah berjanji untuk melindungi tradisi pluralisme dan Islam moderat di negara yang secara resmi sekuler.
Joko Widodo diperkirakan akan mencalonkan diri lagi untuk maju pada Pilpres pada 2019, melawan pesaing utamanya Prabowo Subianto, yang kalah tipis dalam Pilpres terakhir pada 2014.
Pengamat politik mengatakan hasil hitung cepat (quick count) yang beragam berarti bagi Jokowi, yang sebagian besar dimenangkan oleh kubu partai pendukungnya, tetap akan menghadapi pertarungan yang lebih keras tahun depan dari yang diperkirakan.
"Ini mungkin menjadi peringatan bagi Jokowi bahwa dia tidak bisa terlalu percaya diri dan harus lebih sadar pada sentimen publik," kata Keith Loveard dari Concord Consulting Indonesia.
Pada Rabu, pemilihan diadakan untuk memilih langsung 171 walikota, bupati, dan gubernur provinsi di seluruh negara mayoritas Muslim terbesar di dunia.
Hasil pemilihan daerah akan membantu mendukung kandidat presiden karena pemimpin tingkat lokal sering ditempatkan untuk memobilisasi pemilih. Calon presiden harus diumumkan pada 10 Agustus.
Luasnya pengaruh Islamis terhadap pemilih akan diawasi dengan ketat setelah kontes sengit untuk gubernur Jakarta tahun lalu terkena perpecahan agama dan etnis yang mendalam.
Di provinsi Jawa Barat, wilayah konservatif dengan populasi 47 juta, Ridwan Kamil, 46 tahun, arsitek yang berpendidikan AS, telah memenangkan 33 persen suara, beringsut di depan saingan, menurut hitungan cepat, berdasarkan perhitungan tidak resmi dari sampel suara.
Ridwan Kamil, mantan walikota Bandung sebagai kota terbesar ketiga, mendapatkan pujian untuk pendekatan progresifnya terhadap pemerintahan, tetapi ditentang oleh kelompok Islam garis keras yang mempertanyakan kredibilitas Islamnya.
Ridwan Kamil belum secara eksplisit menyuarakan dukungan untuk Widodo seperti dikutip Reuters yang dilansir MailOnline.
UNOFFICIAL COUNTS in Indonesia´s regional elections on Wednesday put candidates favouring President Joko Widodo ahead in three provinces on Java island, home to more than half of the population of the world´s third-largest democracy.
But candidates backed by the opposition fared better than expected in the elections, which is an important pointer for national parliamentary and presidential races in 2019.
Some hardline Islamic leaders have publicly called for the ousting of Widodo, who has pledged to protect Indonesia´s tradition of pluralism and moderate Islam in the officially secular country.
Widodo is expected to run again for the presidency in 2019, against retired general Prabowo Subianto, who was narrowly defeated in the last presidential vote in 2014.
Political analysts said the mixed results meant Widodo, who has mostly enjoyed high approval ratings, may face a tougher fight next year than expected.
"This is likely to be a wake-up call for Jokowi that he can´t be too confident and has to be more aware of people´s sentiments," said Keith Loveard of Concord Consulting Indonesia, referring to the president by his nickname.
On Wednesday, elections were held for 171 city mayors, regents, and provincial governors across the world´s biggest Muslim-majority country.
The regional election results will help underpin support for presidential candidates since local-level leaders are often best placed to mobilise voters. Presidential candidates need to be declared by Aug. 10.
The extent of Islamist influence on voters will be closely watched after a bitterly fought contest for the Jakarta governorship last year exposed deep religious and ethnic rifts.
In West Java province, a conservative area with a population of 47 million, Ridwan Kamil, a 46-year-old, U.S.-educated architect, had won 33 percent of the vote, inching ahead of rivals, according to quick counts, based on unofficial tallies of a sample of votes.
Kamil, the former mayor of Indonesia´s third-largest city of Bandung, has won praise for his progressive approach to governance, but was opposed by hardline Islamist groups questioning his Islamic credentials.
Kamil has not explicitly voiced support for Widodo.