Pembangunan Infrastruktur Makassar Berbanding Lurus Kesejahteraan Rakyat?
Makassar City Development in the Eyes of the Mayoral Candidate
Editor : M. Achsan Atjo
Translator : Dhelia Gani

PUBLISHED: Senin, 09 November 2020 , 15:17:00 WIB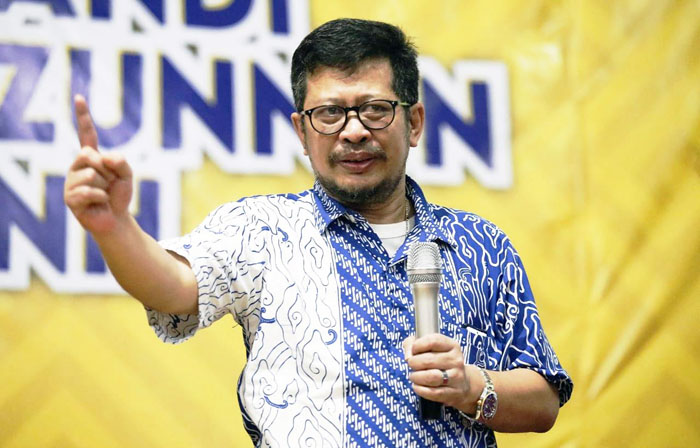 PILKADA MAKASSAR: Kandidat Walikota Makassar nomour urut 4, Irman Yasin Limpo [Foto: istimewa]
Makassar, Sulsel [B2B] - Menyambut HUT Kota Makassar ke-413 hari ini, Senin [9/11], Calon Walikota Makassar, Irman Yasin Limpo berharap pembangunan infrastruktur berbanding lurus dengan kesejahteraan rakyat di ibukota Provinsi Sulawesi Selatan tersebut.
"Semoga di usia ke 413 ini, yang terpenting rakyat Makassar makin sejahtera," kata Irman YL kepada pers di Makassar, hari ini [9/11].
Adik bungsu Menteri Pertanian RI Syahrul Yasin Limpo ini mengingatkan bahwa tak ada manfaatnya membangun gedung pencakar langit dan jalan bertingkat, apabila di sekitarnya masih banyak rumah kumuh.
Pasalnya, kata Irman, warga Makassar masih kelaparan, kesehatan mereka belum terjamin dan pelayanan administrasi pun belum bisa diakses dengan mudah.
"Adaptasi baru menuju gerbang investasi dan pariwisata. Semoga muaranya adalah peningkatan kesejahteraan rakyat. Paling tidak, kalau tidak bisa meningkatkan kesejahteraannya. Jangan bebani rakyat," kata Irman YL yang akrab disapa None.
Menurut kandidat nomor urut 4, Makassar yang inklusif, tumbuh dan berkembang menjadi cita-cita seluruh warga Makassar.
None berharap, di usia Makassar ke-413, pemerintah daerah dan para pemangku kepentingan terkait, dapat melakukan terobosan dan inovasi untuk mewujudkan hal tersebut.
"Di hari jadi Kota Makassar ke-413 ini, yang terpenting jaga imunitas kita, untuk mewujudkan Kota Makassar yang inklusif, tumbuh, dan berkembang lebih maju dan modern serta menjadi penopang pertumbuhan ekonomi makro," katanya.
Makassar of South Sulawesi [B2B] - Welcoming the 413th anniversary of Makassar City today, Monday [November 9], the candidate for Makassar mayor, Irman Yasin Limpo hope that infrastructure development will have an impact on people´s welfare in the South Sulawesi provincial capital.