Pencapaian Target Kapasitas Pembangkit Panas Bumi 7.200 Megawatt Terhadang Investasi dan Perijinan
Indonesia Struggles to Tap Volcano Power (2)
Editor : Ismail Gani
Translator : Novita Cahyadi

PUBLISHED: Senin, 26 September 2016 , 04:40:00 WIB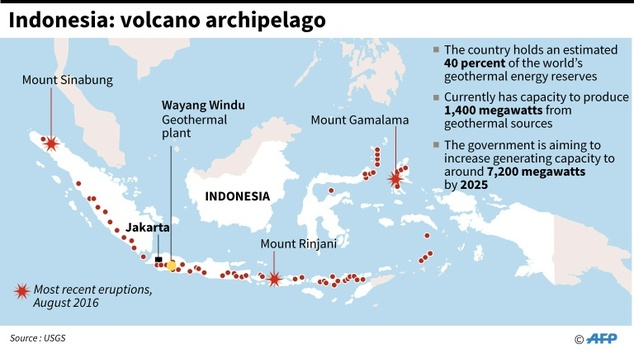 Data dan fakta potensi energi panas bumi di seluruh Indonesia (Peta & Data: AFP)
TANTANGAN sangat besar. Sementara peluang mencapai target 20125, dinilai akan sangat sulit, kata Daniel Wicaksana, pakar energi dari konsultan Frost and Sullivan Indonesia.

Salah satu masalah terbesar adalah biaya eksplorasi tinggi diperlukan di awal proyek pengembangan, menghitung cadangan potensial panas bumi tergolong kompleks, bisnis jangka panjang, dan tidak selalu berhasil.

Membangun pembangkit panas bumi biaya setara dengan $4 sampai $5 juta per megawatt, dibandingkan dengan $1,5 sampai $ 2 juta untuk pembangkit listrik berbahan bakar batubara, menurut asosiasi.

Investor juga mengeluh tentang apa yang mereka katakan sebagai harga yang relatif rendah yang ditawarkan oleh perusahaan listrik milik negara (PLN) untuk membeli listrik dari pusat panas bumi, yang mereka klaim biasanya tidak menutupi pengeluaran awal yang besar.

Untuk mengatasi kendala tersebut, birokrasi yang rumit di Indonesia untuk mendapatkan izin - 29 izin yang diperlukan dari instansi pemerintah dan kementerian berbeda untuk pembangkit panas bumi, dan negosiasi memakan waktu dengan pemerintah daerah yang lama juga dapat menghambat pembangunannya.

"Tingkat kerumitan untuk menyelesaikan dokumen yang diperlukan, di tingkat lokal terutama, juga menambah hambatan pengembangan energi panas bumi," kata Wicaksana.

Kelompok lingkungan juga mempertanyakan komitmen pemerintah untuk panas bumi dalam jangka pendek - khususnya rencana pemerintah untuk meningkatkan kapasitas listrik yang memproduksi secara dramatis pada 2019 tampaknya lebih terfokus pada pembangunan pembangkit listrik berbahan bakar batubara ketimbang memperluas penggunaan sumber energi terbarukan.

Wayang Windu, yang dikelola bersama oleh perusahaan independen Star Energy dan raksasa energi milik BUMN, Pertamina dan mengambil nama dari gunung berapi aktif di dekat pusat pembangkit, memperlihatkan banyaknya kendala.

Eksplorasi pertama dimulai di situ pada 1985 tetapi tidak sampai 15 tahun kemudian bahwa pembangkit mulai menghasilkan listrik komersial, sementara kemampuan pada unit baru untuk meningkatkan kekuatan listrik lama tertunda karena negosiasi biaya.

Bahkan para pejabat negara mengakui pencapaian target panas bumi seperti ditetapkan oleh pemerintah akan sulit tercapai seperti dikutip AFP yang dilansir MailOnline.

Ego Syahrial, kepala badan geologi pemerintah, yang menilai cadangan energi panas bumi mengakui: "Kemajuan ini tidak terlalu menggembirakan kalau mau jujur."
STILL, the challenges are enormous. While achieving the 2025 target may be possible, it will be extremely difficult, said Daniel Wicaksana, an energy expert at consultancy Frost and Sullivan Indonesia.

One of the biggest problems is the high exploration costs needed at the outset, as checking for potential geothermal reserves is a complex, time-consuming business, that is not always successful.

Building a geothermal plant costs the equivalent of $4 to $5 million dollars per megawatt, compared to $1.5 to $2 million for a coal-fired power station, according to the association.

Investors have also complained about what they say is the relatively low price offered by the state-run power company to buy electricity from a geothermal facility, which they claim usually doesn´t cover the large initial outlay.

To top it all off, Indonesia´s complicated bureaucracy puts many off -- 29 permits are required from different government agencies and ministries for a geothermal plant, and time-consuming negotiations with powerful local administrations can also hamper progress.

"The level of complexity to complete the necessary paperwork, at the local level especially, also adds to the slow development of geothermal," said Wicaksana.

Green groups have also questioned authorities´ commitment to geothermal in the near term -- a plan by the government to ramp up electricity-producing capacity dramatically by 2019 seems more focused on building coal-fired power stations than expanding the use of renewable energy sources.

Wayang Windu, which is jointly managed by independent company Star Energy and state-owned energy giant Pertamina and takes its names from the active volcano near the plant, illustrates some of the challenges.

Exploration first began at the site in 1985 but it was not until 15 years later that the plant began producing electricity commercially, while work on a new unit to boost power generation has been delayed due to negotiations over cost.

Even officials admit achieving the government geothermal target will be tough.

Ego Syahrial, the head of the government´s geology agency, which assesses geothermal energy reserves conceded: "The progress is not very encouraging to be honest."