PT Freeport Indonesia Bangun Pabrik Smelter di Gresik
Freeport Indonesia Breaks Ground on $3 billion Copper Smelter
Editor : Ismail Gani
Translator : Novita Cahyadi

PUBLISHED: Selasa, 12 Oktober 2021 , 22:08:00 WIB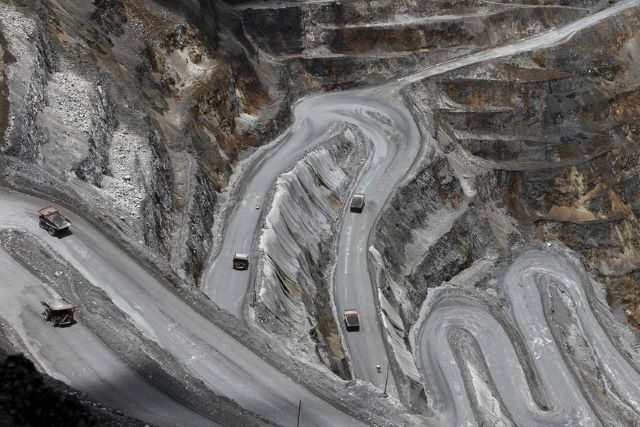 BANGUN SMELTER: Fasilitas pembangunan tersebut akan memiliki kapasitas 1,7 juta ton konsentrat tembaga, yang ditaksir senilai $3 miliar. [Foto: Reuters]
PT Freeport Indonesia memulai pembangunan pabrik peleburan tembaga [smelter] terbesarnya di Kawasan Ekonomi Khusus [KEK] Gresik, Jawa Timur, pada Selasa [12/10].
Fasilitas pembangunan tersebut akan memiliki kapasitas 1,7 juta ton konsentrat tembaga, yang ditaksir senilai $3 miliar dan mulai beroperasi pada akhir 2023 atau awal 2024.
"Smelter ini dibangun dengan desain single line, yang terbesar di dunia," kata Presiden RI Joko Widodo pada upacara pelatakan batu pertama.
Jokowi berharap kehadiran Freeport Indonesia di kawasan ekonomi khusus Gresik menjadi daya tarik bagi industri lain untuk bergabung.
Pada kesempatan yang sama, Menteri Koordinator Bidang Perekonomian RI, Airlangga Hartarto mengatakan pabrik smelter tersebut akan menghasilkan sekitar 600.000 ton katoda tembaga, termasuk kilang logam mulia senilai $200 juta, dengan kapasitas produksi hingga 54 ton.
Dari sisi ekspor tembaga, kata Hartarto, Indonesia akhirnya dapat memetik manfaat setelah puluhan tahun mengekspor sebagian besar konsentrat tembaga.
"Ini bersejarah karena akan diproduksi seluruhnya di Gresik. Proyek ini membutuhkan air, gas... Manfaat ekonominya sangat besar," kata Hartarto.
Peresmian ini dilakukan setelah berbulan-bulan musyawarah antara membangun smelter tembaga dalam kemitraan dengan Tsingshan Holding Group China di Teluk Weda, atau yang dekat dengan operasinya yang ada di Gresik, seperti dikutip Reuters yang dikutip MailOnline.
Freeport Indonesia telah mengeluarkan pernyataan bahwa kedua perusahaan telah gagal mencapai kesepakatan, pada Juli lalu.
Di dalamnya juga mengatakan telah menandatangani kontrak rekayasa, pengadaan dan konstruksi dengan Chiyoda Jepang.
AMERICAN mining giant Freeport McMoRan broke ground on Tuesday in construction of one of the world's biggest copper smelters near its existing refining operations in Indonesia.
The $3 billion facility in Gresik, East Java, will have capacity of 1.7 million tonnes of copper concentrate and is expected to start operations in late 2023 or early 2024.
"The smelter is built with a single line design, which is the largest in the world," Indonesian President Jokowi Widodo told a televised groundbreaking ceremony on Tuesday.
"I hope that Freeport Indonesia's presence in this special economic zone in Gresik will be an attraction for other industries to enter," he said.
The commencement follows months of deliberation between building a copper smelter in partnership with China's Tsingshan Holding Group in Weda Bay, or one near its existing operations in Gresik.
Freeport Indonesia said in July said the two companies had failed to reach an agreement.
It also said it had signed an engineering, procurement and construction contract with Japan's Chiyoda.
The new smelter will also have an output of 600,000 tonnes of copper cathode and include a $200 million precious metal refinery, with output capacity of up to 54 tonnes, Coordinating Minister of Economic Affairs, Airlangga Hartarto, told the ceremony.
Hartarto said Indonesia can finally reap the benefits of exporting value-added copper after decades of exporting mostly copper concentrate.
"This is historic because it will be produced entirely in Gresik. This project requires water, gas... The economic benefits are huge," Hartarto said.