Ahok Bebas dari Penjara Disorot Dunia
Jakarta ex-governor Freed from Prison after Blasphemy Sentence
Editor : Ismail Gani
Translator : Novita Cahyadi

PUBLISHED: Kamis, 24 Januari 2019 , 16:15:00 WIB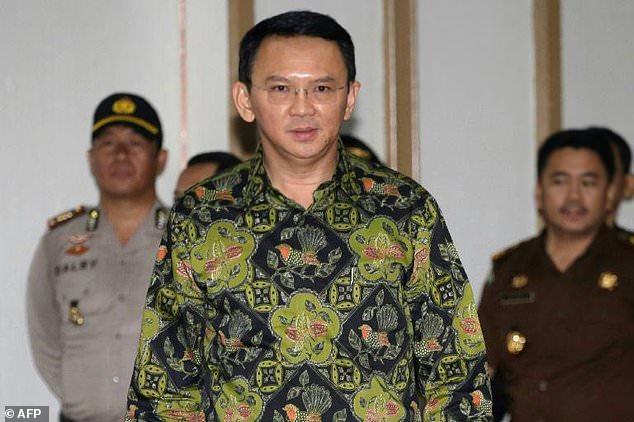 Basuki Tjahaja Purnama (Foto: AFP/MailOnline)
MANTAN Gubernur DKI Jakarta dibebaskan dari penjara Kamis, setelah hampir dua tahun menjalani hukuman badan setelah divonis bersalah karena penistaan agama.
Basuki Tjahaja Purnama - gubernur non-Muslim pertama di Indonesia dalam setengah abad dan pemimpin etnis Tionghoa pertama - meninggalkan penjara di Depok, kata asistennya Ima Mahdiah kepada AFP.
Pendukung Ahok yang berkumpul di luar penjara, meneriakkan dan menyemangati bebasnya Ahok dari sel penjara di Mako Brimob Depok.
"Ayah saya orang bebas! Terima kasih semuanya atas dukungannya," kata Nicholas Sean, salah satu dari tiga anak Ahok, di Twitter.
Kabar bebasnya Ahok mengakhiri salah satu bab paling bergejolak dalam politik Indonesia dalam ingatan terakhir.
Ahok adalah seorang politisi populer yang mendapat pujian karena berusaha membersihkan kota yang macet dan memberantas korupsi sebelum masuk penjara.
Namun kejatuhannya datang dengan cepat setelah komentar yang dia buat tentang kampanye selama upaya pemilihan ulang karena dia dituding menghina Islam.
Pernyataan itu direkam, yang kemudian menjadi viral online, memicu protes massa di Jakarta, dipelopori oleh kelompok-kelompok radikal yang menentang pemimpin non-Muslim dan didorong oleh lawan politiknya.
Ahok mendesak para pemilih untuk mengabaikan saingan yang mengutip ayat Alquran yang menyatakan bahwa mereka harus menolak para pemimpin non-Muslim, dengan gubernur saat itu mengatakan orang-orang sedang dimanipulasi untuk memberikan suara menentangnya.
Namun, para hakim memutuskan pernyataan itu sama dengan penistaan terhadap Islam dan ia kemudian dijatuhi hukuman penjara dua tahun pada Mei 2017, setelah kalah dalam Pilkada DKI.Muslim.
Itu adalah hukuman yang luar biasa keras - jaksa hanya merekomendasikan hukuman percobaan untuk Ahok yang kini berusia 52 tahun seperti dikutip AFP yang dilansir MailOnline.
JAKARTA'S former governor was released from prison Thursday, nearly two years after his blasphemy conviction fanned fears of religious intolerance in the world's biggest Muslim-majority nation.
Basuki Tjahaja Purnama -- the Indonesian capital's first non-Muslim governor in half a century and its first ethnic Chinese leader -- left a prison outside the capital after dawn, his assistant Ima Mahdiah told AFP.
Supporters of the Christian ex-governor, who is popularly known as Ahok, gathered outside the prison, chanting and cheering his new found freedom.
"My dad's a free man! Thank you everyone for the support," Nicholas Sean, one of his three children, said on Twitter.
The release ends one of the most tumultuous chapters in Indonesian politics in recent memory.
Purnama had been a popular politician who won praise for trying to clean up the traffic-clogged megacity and clamp down on corruption before his imprisonment.
But his downfall came quickly after comments he made on the campaign trail during a re-election bid saw him accused of insulting Islam.
The filmed remarks, which went viral online, sparked mass protests in Jakarta, spearheaded by radical groups opposed to a non-Muslim leader and encouraged by his political rivals.
Purnama had urged voters to ignore rivals who cited a Koranic verse stating they should reject non-Muslim leaders, with the then governor saying people were being manipulated into voting against him.
However, judges ruled the remarks amounted to blasphemy against Islam and he was then sentenced to two years' jail in May 2017, having lost the election to a Muslim challenger.
It was an unusually harsh sentence -- prosecutors had only recommended probation for the now 52-year-old.