Polisi Papua Interogasi Pencuri dengan Ular Disorot Dunia
Indonesian Police Used Snake to Terrorise Suspect
Editor : Ismail Gani
Translator : Novita Cahyadi

PUBLISHED: Selasa, 12 Februari 2019 , 19:32:00 WIB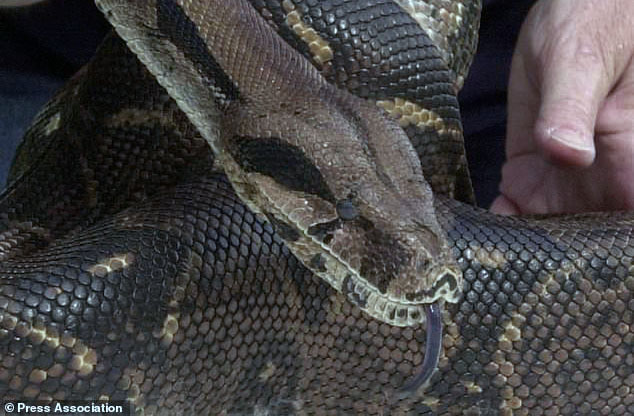 Foto: Press Association/MailOnline
KEPOLISIAN RI (Polri) mengakui bahwa oknum polisi melakukan interogasi terhadap seorang warga Papua dengan seekor ular, yang terkuak setelah rekaman videonya menjadi viral di jagat maya.
Polda Papua menyampaikan permohonan maaf tapi juga berusaha untuk membela tindakan anggotanya, berdalih bahwa ular tersebut tidak berbisa dan polisi tidak memukul terhadap terperiksa, yang diduga mencuri.
Pengacara HAM Veronica Koman mengatakan metode interogasi adalah penyiksaan dan melanggar kebijakan polisi serta beberapa undang-undang.
Dia mengatakan fakta tersebut hanya terbaru dari beberapa laporan polisi dan militer yang menggunakan ular untuk meneror tahanan polisi.
Sam Lokon, anggota Komite Nasional Papua Barat, yang mengadvokasi kemerdekaan dari Indonesia, dimasukkan ke sel dengan ular dan juga dipukuli setelah ditangkap pada Januari, kata Koman.
Polisi mengindikasikan insiden dengan dugaan pencuri terjadi baru-baru ini, selama penumpasan kejahatan di Kabupaten Jayawijaya.
Penyebaran video itu, yang menunjukkan pria itu berteriak ketakutan dan interogatornya tertawa, telah memaksa polisi untuk meminta maaf "sangat jarang", kata Koman, sementara juga mengritik upaya untuk memberikan pembenaran.
Video satu menit dan 20 detik menunjukkan ular coklat gelap, setidaknya dua meter, melilit leher dan pinggang tersangka yang diborgol dan seorang petugas mendorong kepalanya ke wajah pria itu ketika dia semakin histeris.
Petugas tampaknya bertanya berapa kali ia mencuri ponsel.
Kepala polisi Jayawijaya Tonny Ananda Swadaya mengatakan dalam sebuah pernyataan bahwa para petugas telah didisiplinkan dengan diberi pelatihan etika dan pindah ke lokasi lain.
Juru bicara kepolisian provinsi Papua mengatakan petugas yang terlibat sedang diperiksa oleh divisi urusan internal kepolisian nasional seperti dikutip Press Association yang dilansir MaiOnline.
INDONESIAN police have acknowledged officers terrorised a Papuan man with a live snake after a video of the incident circulated online.
Police in Indonesia's easternmost Papua region apologised but also attempted to justify the officers' actions by saying the snake was not venomous and that they had not resorted to beating the man, who was suspected of theft.
Human rights lawyer Veronica Koman said the interrogation methods were torture and violated police policies as well as several laws.
She said it was only the latest of several reports of police and military using snakes to terrorise Papuan detainees and symptomatic of a culture of racism against indigenous Papuans.
Sam Lokon, a member of the West Papua National Committee, which advocates for independence from Indonesia, was put in a cell with a snake and also beaten after being arrested in January, Ms Koman said.
Police indicated the incident with the alleged thief happened recently, during a crackdown on petty crime in Jayawijaya district.
The spread of the video, which shows the man screaming in fear and his interrogator laughing, had forced police into a "very rare" apology, Ms Koman said, while also criticising the attempt to provide a justification.
The one minute and 20 second video shows the dark brown snake, at least two metres long, wrapped around the handcuffed suspect's neck and waist and an officer pushing its head into the man's face as he becomes increasingly hysterical.
Officers appear to be asking how many times he had stolen mobile phones.
Jayawijaya police chief Tonny Ananda Swadaya said in a statement the officers had been disciplined by being given ethics training and moved to other locations.
Papua province's police spokesman said the officers involved are being questioned by an internal affairs division of the national police.