11 Tewas, 41 Terluka akibat Ledakan Bom Bunuh Diri di Surabaya
Suicide Bombers Hit Indonesian Churches; 11 Dead, 41 Hurt
Editor : Ismail Gani
Translator : Novita Cahyadi

PUBLISHED: Minggu, 13 Mei 2018 , 19:56:00 WIB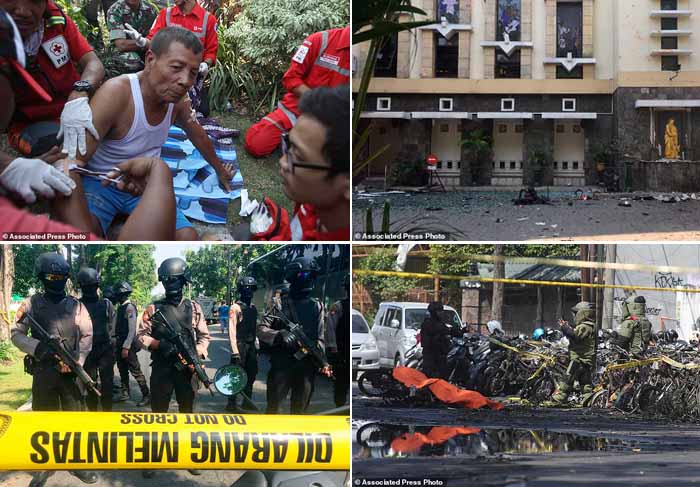 Foto2: AFP/MailOnline
PEMBOM bunuh diri dengan sepeda motor dan termasuk seorang wanita dan anak menjadi target dari serangan bom bunuh diri pada jemaat Misa Minggu di tiga gereja di kota terbesar kedua di Indonesia, menewaskan sedikitnya 11 orang dan melukai puluhan orang dalam salah satu serangan terburuk di Indonesia, kata polisi.
Aksi pemboman itu tergolong paling mematikan yang menargetkan gereja-gereja di Indonesia, negara berpenduduk mayoritas Muslim terbesar di dunia, setelah serangkaian serangan Malam Natal pada tahun 2000 menewaskan 15 orang dan melukai hampir 100 lainnya. Minoritas agama di Indonesia, terutama Kristen, berulang kali menjadi sasaran dari kelompok militan.
Serangan pertama menghantam Gereja Katolik Roma Santa Maria di Surabaya, menewaskan empat orang, termasuk satu atau dua pelaku, kata Kabidhumas Polda Jatim, Kombes Frans Barung Mangera kepada pers di tempat kejadian. Dia mengatakan dua petugas polisi termasuk di antara total 41 orang korban terluka.
Ledakan itu diikuti oleh ledakan kedua beberapa menit kemudian di Gereja Kristen Diponegoro dan yang ketiga di Gereja Pantekosta di kota itu, kata Frans.
Presiden RI Joko Widodo tiba di Surabaya, ibukota provinsi Jawa Timur, setelah serangan, kata Mangera.
Seorang perwira tinggi polisi mengatakan pemboman itu dilakukan oleh setidaknya lima pembom bunuh diri, termasuk seorang wanita berkerudung dengan dua anak bersamanya. Dia meminta identitasnya tidak disebutkan karena sang perwira tinggi tidak berwenang untuk berbicara kepada media.
Seorang saksi menggambarkan wanita itu, mengatakan dia membawa dua tas di gereja Diponegoro.
"Awalnya petugas memblokir mereka di depan halaman gereja, tetapi wanita itu mengabaikan dan memaksa masuk. Tiba-tiba dia memeluk seseorang yang kemudian (bom itu) meledak," kata saksi, seorang penjaga keamanan gereja bernama Antonius.
Kepala Polsek Tegalsari Surabaya, Komisaris David Triyo Prasojo mengatakan pasukan penjinak bom telah meledakkan bom yang tidak meledak di gereja Diponegoro.
Kaca pecah dan bongkahan beton berserakan di pintu masuk Gereja Santa Maria, yang diamankan oleh polisi bersenjata lengkap. Petugas langsung bertindak cepat menyelamatkan korban di lapangan terdekat sementara petugas memeriksa sepeda motor yang rusak di tempat parkir yang terbakar akibat ledakan bom.
Seorang pedagang jalanan di luar gereja mengatakan dia sangat terkejut (beberapa meter) oleh ledakan kuat tersebut.
"Saya melihat dua pria mengendarai sepeda motor memaksa masuk ke halaman gereja. Salah satunya memakai celana hitam dan satu dengan tas punggung," kata pedagang itu, Samsia, yang menggunakan satu nama. "Segera setelah itu ledakan itu terjadi."
Di Jakarta, Persatuan Gereja-gereja Indonesia (PGI) mengecam keras serangan tersebut dan meminta orang-orang menunggu pihak berwenang untuk menyelidiki.
"Kami sangat marah dengan serangan-serangan ini, tetapi kami serahkan kepada pihak berwenang untuk menyelesaikannya," kata Gormar Gultom, pimpinan PGI.
Dua organisasi Muslim terbesar di Indonesia, Nahdlatul Ulama dan Muhammadiyah, juga mengutuk serangan tersebut.
Kadiv Humas Mabes Polri Irjen Setyo Wasisto mengatakan polisi menembak mati empat tersangka militan dan menangkap dua orang lainnya pada Minggu pagi di kota-kota Jawa Barat. Tidak jelas apakah penembakan teroris terkait dengan serangan bom gereja.
"Mereka telah dilatih untuk menyerang polisi," kata Wasisto, mengidentifikasi para militan sebagai anggota Jemaah Anshorut Daulah atau JAD. Jaringan JAD terdiri atas dua lusin sel terpisah yang terlibat dalam sejumlah serangan di Indonesia selama setahun terakhir. JAD berjanji setia kepada pemimpin kelompok Negara Islam (ISIS) Abu Bakr al-Baghdadi.
Serangan gereja itu terjadi beberapa hari setelah polisi mengakhiri kerusuhan dan penyanderaan di sebuah pusat penahanan (Rutan) di Mako Brimob Kelapa Dua Depok yang mengakibatkan lima personel polisi dan tiga napi teroris tewas. Kelompok Negara Islam mengklaim bertanggung jawab atas insiden itu.
Indonesia telah melakukan tindakan keras terhadap militan sejak pemboman oleh kelompok radikal yang berafiliasi dengan al-Qaida di Bali pada 2002 menewaskan 202 orang. Dalam beberapa tahun terakhir, Indonesia menghadapi ancaman baru ketika munculnya kelompok ISIS di Timur Tengah memperkuat jaringan militan lokal.
Penganut Kristen, banyak dari mereka berasal dari etnis minoritas Tionghoa, mencapai sekitar 9 persen dari 260 juta penduduk Indonesia seperti dikutip Associated Press yang dilansir MailOnline.
SUICIDE bombers on motorcycles and including a woman with children targeted Sunday Mass congregations in three churches in Indonesia´s second-largest city, killing at least 11 people and wounding dozens in one of the worst attacks on the country´s Christian minority, police said.
The bombings were the deadliest to target churches in Indonesia, the world´s most populous Muslim-majority country, since a series of attacks on Christmas Eve in 2000 killed 15 people and wounded nearly 100. Religious minorities in Indonesia, especially Christians, have been repeatedly targeted by militants.
The first attack struck the Santa Maria Roman Catholic Church in Surabaya, killing four people, including one or more bombers, police spokesman Frans Barung Mangera told reporters at the scene. He said two police officers were among a total of 41 wounded.
The blast was followed by a second explosion minutes later at the Christian Church of Diponegoro and a third at the city´s Pantekosta Church, Mangera said.
Indonesian President Joko "Jokowi" Widodo arrived in Surabaya, the East Java provincial capital, in the aftermath of the attacks, Mangera said.
A senior police official said the bombings were carried out by at least five suicide bombers, including a veiled woman who had two children with her. The official spoke on condition of anonymity because he wasn´t authorized to speak to the media.
A witness described the woman, saying she was carrying two bags at the Diponegoro church.
"At first officers blocked them in front of the churchyard, but the woman ignored and forced her way inside. Suddenly she hugged a civilian then (the bomb) exploded," said the witness, a civilian guard named Antonius.
A local police chief, David Triyo Prasojo, said a bomb squad detonated an unexploded bomb at the Diponegoro church.
Shattered glass and chunks of concrete littered the entrance of the Santa Maria Church, which was sealed off by heavily armed police. Rescue personnel treated victims on a nearby field while officers inspected wrecked motorcycles in the parking lot that had been burned in the explosion.
A street merchant outside the church said she was blown away several meters (yards) by the powerful blast.
"I saw two men riding a motorbike forced their way into the churchyard. One was wearing black pants and one with a backpack," said the merchant, Samsia, who uses a single name. "Soon after that the explosion happened."
In Jakarta, Indonesia´s capital, the Indonesian Church Association strongly condemned the attacks and called on people to wait for authorities to investigate.
"We are angry with these attacks, but we leave it to the authorities to resolve them," said Gormar Gultom, an official with the association.
Two of Indonesia´s largest Muslim organizations, Nahdlatul Ulama and Muhammadiyah, also condemned the attacks.
National police spokesman Setyo Wasisto said police fatally shot four suspected militants and arrested two others early Sunday in West Java towns. It wasn´t clear if the shootings were connected with the church attacks.
"They have trained in order to attack police," Wasisto said, identifying the militants as members of Jemaah Anshorut Daulah. The network of about two dozen extremist groups has been implicated in a number of attacks in Indonesia over the past year. It pledges allegiance to Islamic State group leader Abu Bakr al-Baghdadi.
The church attacks came days after police ended a riot and hostage-taking at a detention center near Jakarta that left six officers and three inmates dead. The Islamic State group claimed responsibility for that incident.
Indonesia has carried out a sustained crackdown on militants since bombings by al-Qaida-affiliated radicals in Bali in 2002 killed 202 people. In recent years, the country has faced a new threat as the rise of the Islamic State group in the Middle East invigorated local militant networks.
Christians, many of whom are from the ethnic Chinese minority, make up about 9 percent of Indonesia´s 260 million people.