Menko Polhukam Wiranto Diserang di Pandeglang jadi Sorotan Internasional
Indonesia`s Security Minister Injured in Stabbing
Editor : Ismail Gani
Translator : Novita Cahyadi

PUBLISHED: Kamis, 10 Oktober 2019 , 21:24:00 WIB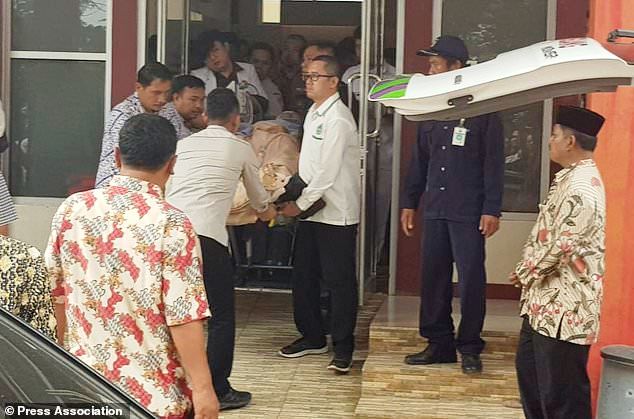 Presiden Joko Widodo, yang menunjuk Wiranto sebagai Menko Polhukam pada 2016, telah membesuk Wiranto di RS Gatot Subroto Jakarta [Foto: Press Association/MailOnline]
SEORANG pria menggunakan pisau yang diduga telah terpapar oleh kelompok Islam radikal mencoba menyerang Menko Polhukam Wiranto dengan pisau, perwira polisi yang berupaya melindungi Wiranto ikut tertusuk di Pandeglang, Banten pada Kamis [10/10].
Menko Wiranto, ditikam di perut dalam serangan di provinsi Banten, kata Karo Penmas Divisi Humas Polri Brigjen Dedi Prasetyo.
Wiranto, 72 tahun diterbangkan ke Jakarta dan tetap dalam kondisi stabil.
Peristiwa naas yang menimpa Jenderal [Purn] Wiranto adalah mantan Menhankam/Pangab pada akhir dekade 90-an, baru saja keluar dari mobilnya dan disambut oleh kepala polisi di Pandeglang ketika penyerang berlari ke arah mereka, melukai keduanya bersama dengan orang ketiga sebagai pelaku penyerangan.
Wiranto, diserang orang tidak dikenal di Alun-alun Menes, Pandeglang, Banten, saat hendak pulang ke Jakarta setelah peresmian Gedung Kuliah Bersama di Universitas Mathla'ul Anwar yang beralamat di Kampung Cikaliung, Desa Sindanghayu, Kecamatan Saketi.
Pengawal Wiranto menggulingkan penyerang bersenjata tajam ke tanah dan mengikat tangannya di belakang punggung sementara yang lain membantu Wiranto, yang tersandung ke tanah.
Presiden Joko Widodo, yang menunjuk Wiranto sebagai Menko Polhukam pada 2016, telah membesuk Wiranto di RS Gatot Subroto Jakarta.
Motif penyerangan, yang terjadi menjelang pelantikan Joko Widodo sebagai Presiden RI untuk periode kedua, belum diketahui.
Sebagai menteri koordinasi untuk urusan politik, hukum dan keamanan, Wiranto mengawasi beberapa kementerian dan lembaga, termasuk Polri dan Kementerian Pertahanan.
Polisi mengatakan mereka juga menangkap seorang teman wanita penyerang.
Dedi Prasetyo mengatakan kepada wartawan bahwa pasangan itu mungkin telah terpapar oleh faham radikal dari kelompok Negara Islam [ISIS].
"Kedua pelaku patut diduga terpapar faham radikal ISIS," katanya kepada wartawan.
Dia mengatakan para penyelidik sedang mencoba untuk menentukan apakah para penyerang itu terkait Jemaah Ansharuf Daulah, sebuah jaringan militan Muslim di Indonesia yang bersekutu dengan kelompok ISIS yang menurut pejabat keamanan memiliki pengikut di Banten.
Kelompok ini dipersalahkan atas serangan bom bunuh diri dan penyerangan bersenjata.
Wiranto sebagai Menhankam/Pangab pada 1998 hingga 1999, ketika Polri masih berada di bawah kendali ABRI [kini TNI], Wiranto mengawasi keamanan dan pertahanan pada saat protes mahasiswa meletus di seluruh negeri dan akhirnya menyebabkan jatuhnya presiden Soeharto pada 1998.
Wiranto tidak berhasil mencalonkan diri sebagai presiden pada 2004 dan untuk wakil presiden pada 2009. Ia memimpin sebuah partai politik, Hati Nurani Rakyat [Hanura] pada 2014 yang menyatakan mendukung Presiden Jokowi seperti dikutip Press Association yang dilansir MailOnline.
A KNIFE-WIELDING man who may have been influenced by a radical Islamic group has injured Indonesia's security minister, a local police chief and a third person in an attack in a western province.
Security minister Wiranto, who goes by one name, was stabbed in the abdomen in the attack in Banten province, national police spokesman Dedi Prasetyo said.
The 72-year-old was airlifted to the capital Jakarta and remains in a stable condition.
Wiranto, who was armed forces chief in the late 1990s, had just stepped out of his car and was being welcomed by the police chief in Pandeglang when the attacker dashed towards them, wounding both along with the third man.
Bodyguards wrestled the attacker to the ground and tied his hands behind his back while others helped Wiranto, who stumbled to the ground.
President Joko Widodo, who appointed Wiranto to the top security post in 2016, has visited him in hospital.
The motive for the attack, which came just a few days before Mr Widodo's inauguration for his second five-year term in office, was not immediately clear.
As co-ordinating minister for politics, legal and security affairs, Wiranto supervises several ministries and agencies, including the national police and defence, which have been in charge of the government's counter-insurgency campaign.
Police said they also arrested a female companion of the attacker.
Mr Prasetyo told reporters the pair may have been radicalised by the Islamic State group's extremist ideology.
"The perpetrators are alleged to have been exposed to Islamic State radicalism," he told reporters.
He said investigators are trying to determine whether the attackers belonged to Jemaah Ansharuf Daulah, a Muslim militant network in Indonesia aligned with the Islamic State group which security officials believe has followers in Banten.
The group has been blamed for past bomb attacks in Indonesia.
As chief of the armed forces from 1998 to 1999, when the national police force was still under military control, Wiranto oversaw security and defence at a time when student protests erupted nationwide and eventually led to the fall of president Suharto in 1998.
Wiranto ran unsuccessfully for president in 2004 and for the vice-presidency in 2009. He led a political party in 2014 which threw its support behind Mr Widodo's presidential campaign.