Abu Afif, Pimpinan JAD Pekanbaru Divonis 11 Tahun Penjara
Indonesian Court Rules Militant Guilty of Terrorism
Editor : Ismail Gani
Translator : Novita Cahyadi

PUBLISHED: Kamis, 13 September 2018 , 22:11:00 WIB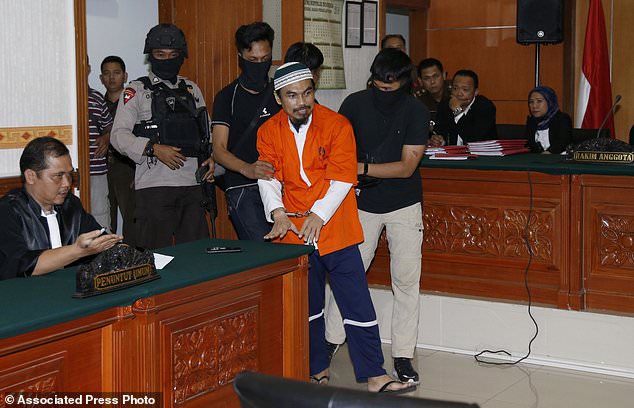 Wawan Kurniawan alias Abu Afif mengenakan rompi tahanan sebelum dijatuhkan vonis oleh majelis hakim PN Jakarta Barat (Foto: Associated Press/MailOnline)
PENGADILAN Negeri Jakarta Barat menetapkan vonis hukuman 11 tahun penjara pada Wawan Kurniawan alias Abu Afif setelah terbukti melakukan tindak pidana terorisme, melakukan pelatihan untuk menyiapkan serangan teroris.
Wawan Kurniawan ditangkap bersama dengan empat militan lainnya Oktober lalu oleh pasukan anti teror Polri, Densus 88 di Pekanbaru, ibukota provinsi Riau.
Hakim Suhartono, ketua majelis hakim di PN Jakarta Barat mengatakan Wawan telah terbukti bersalah di bawah undang-undang anti teror.
Wawan, 43, adalah pemimpin lokal Jemaah Anshorut Daulah, jaringan militan Indonesia yang berafiliasi dengan kelompok Negara Islam (ISIS) yang terlibat dalam serangan teroris di Indonesia.
Wawan dituduh telah memprovokasi kerusuhan Mei di pusat penahanan polisi keamanan tinggi di mana enam petugas tewas oleh narapidana terorisme yang berupaya mengambil alih rumah tahanan di Markas Brimob Kelapa Dua Depok. Seorang militan juga terbunuh.
Seminggu kemudian, empat lelaki bersenjata yang diduga milik Jemaah Anshorut Daulah menyerang markas polisi di Pekanbaru dan ditembak mati oleh polisi. Orang kelima yang mengendarai kendaraan mereka ditangkap ketika mencoba melarikan diri. Satu petugas tewas dan dua lainnya terluka.
Kelompok Negara Islam mengklaim bertanggung jawab atas serangan itu dalam sebuah pernyataan yang dirilis oleh kantor berita Aamaq.
Jaksa menuntut hukuman 13 tahun penjara untuk Wawan, tetapi majelis hakim mengatakan mereka memutuskan untuk bersikap lunak karena kesopanannya selama persidangan dan karena dia tidak pernah dijatuhi hukuman dalam kasus pidana sebelumnya.
Indonesia telah melakukan tindakan keras terhadap militan sejak pemboman oleh kelompok radikal yang berafiliasi dengan al-Qaida di Bali pada 2002 menewaskan 202 orang seperti dikutip Associated Press yang dilansir MailOnline.
AN INDONESIAN court sentenced an Islamic militant on Thursday to 11 years in prison after finding him guilty of conducting training in preparation for a terrorist attack.
Wawan Kurniawan was arrested along with four other militants last October by the anti-terror squad in Pekanbaru, the capital of Riau province.
Judge Suhartono, who presided over the trial at West Jakarta District Court, said Wawan had been proven guilty under the anti-terror law.
Wawan, 43, was the local leader of Jemaah Anshorut Daulah, an Indonesian militant network affiliated with the Islamic State group that has been implicated in attacks in the country.
Wawan was accused of having provoked a riot in May at a high-security police detention center in which six officers were killed by Islamic inmates who took control of part of the prison near Indonesia´s capital. One militant was also killed.
A week later, four sword-wielding men who allegedly belonged to Jemaah Anshorut Daulah attacked a police headquarters in Pekanbaru and were fatally shot by police. A fifth man who drove their vehicle was arrested while trying to escape. One officer died and two others were injured.
The Islamic State group claimed responsibility for the attack in a statement carried by its Aamaq news agency.
Prosecutors had sought a 13-year jail sentence for Wawan, but the panel of judges said they decided to be lenient because of his politeness during the trial and because he had never been sentenced in a criminal case before.
Indonesia has carried out a sustained crackdown on militants since bombings by al-Qaida-affiliated radicals in Bali in 2002 killed 202 people.