Ditjen Imigrasi Tahan Warga Inggris yang Masuk Daftar Terduga Teroris Polri
Indonesia Detains British Woman on Terror Suspect List
Editor : Ismail Gani
Translator : Novita Cahyadi

PUBLISHED: Selasa, 02 Februari 2021 , 22:47:00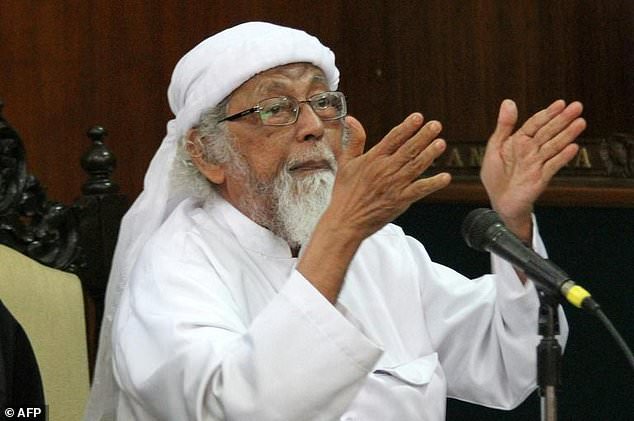 Pimpinan Jemaah Islamiyah Abu Bakar Ba´asyir [Foto: AFP/MailOnline]
INDONESIA telah menahan seorang wanita Inggris yang masuk dalam daftar tersangka teroris global dan berencana untuk mendeportasinya karena pelanggaran visa, kata pihak berwenang kepada AFP, Selasa [2/2].

Tazneen Miriam Sailar, mualaf kelahiran Manchester, Inggris, yang menikah dengan seorang militan Indonesia yang terbunuh di Suriah - belum dituduh melakukan aksi terorisme.

Kendati begitu, Sailar dan mendiang suaminya masuk daftar tersangka terorisme dari Kepolisian RI [Polri] yang mencakup beberapa orang asing yang terkenal di Barat.

Sailar, 47, dan putranya yang berusia 10 tahun, yang lahir di Indonesia, ditahan di Jakarta setelah dijemput tahun lalu tanpa dokumen yang mengizinkannya untuk tetap tinggal di Indonesia, kata pengacaranya Farid Ghozali.

"Dia dimasukkan (dalam tahanan) sambil menunggu kepulangannya, yang akan difasilitasi oleh Kedutaan Besar Inggris," kata juru bicara Direktorat Jenderal Imigrasi, Kemenkumham, Ahmad Nursaleh kepada AFP.

Kedubes Inggris untuk Indonesia menolak berkomentar, dan belum diketahui kapan Sailar akan dideportasi.

Catatan Polri tentang daftar terduga teroris tidak merinci mengapa Sailar disebutkan bersama sekitar 400 tersangka teror lainnya - termasuk suaminya - dalam daftar tersebut.

Mendiang suami Sailar terbunuh di Suriah pada 2015.

Pernikahan mereka pada 2010, dinikahkan oleh ulama radikal Indonesia Abu Bakar Ba´asyir, pimpinan Jemaah Islamiyah (JI), menurut sumber yang mengetahui kasus tersebut.

Anggota JI berada di balik pemboman Bali pada 2002 yang menewaskan lebih dari 200 orang - termasuk hampir 90 turis Australia - di dua bar yang penuh sesak di Bali.

Sailar menjalankan badan amal yang menggunakan nama mendiang suaminya, yang mengirimkan bantuan kepada wanita dan anak-anak di Suriah yang dilanda konflik, kata sumber AFP.

Sailar tiba di Indonesia yang mayoritas Muslim pada 2005 sebagai relawan medis untuk sebuah yayasan kemanusiaan Kristen yang membantu para korban bencana alam, kata pengacara Ghozali dan seorang sumber.

Analis keamanan yang berbasis di Jakarta, Sidney Jones, mengatakan kehadiran Sailar dalam daftar tersebut dapat membatasi kemampuannya untuk bepergian dan bekerja.

"Jika Anda termasuk dalam daftar ini, itu akan membayangi kepala Anda," kata Jones.

"Untuk wanita ini, saya tidak tahu apa yang akan terjadi padanya jika dia kembali ke Inggris."

Beberapa tersangka anggota Taliban dan ISIS muncul di daftar teroris Polri, serta kelompok radikal Islam Inggris Anjem Choudary dan Sally-Anne Jones, seorang perekrut yang dilaporkan tewas dalam serangan pesawat tak berawak AS di Suriah.

Maxime Hauchard, seorang mualaf Prancis yang terkait dengan teror ISIS, dan rekan senegaranya Peter Cherif, rekan dekat saudara kandung yang membunuh staf di majalah Charlie Hebdo pada 2015, juga ada di dalamnya.

Sailar lahir di Manchester pada 20 Februari 1973, dan memegang paspor Inggris, menurut daftar tersebut, yang juga mengatakan dia memiliki setidaknya dua nama alias.

Penyelidik Indonesia menanyai Sailar tetapi tidak ada dakwaan yang diajukan, kata pengacaranya.

"Jadi kami sekarang fokus ke urusan keimigrasian," katanya seraya menambahkan Sailar ingin tetap di Indonesia seperti dikutip AFP yang dilansir MailOnline.
INDONESIA has detained a British woman named on a list of global terror suspects and plans to deport her for visa violations, authorities told AFP Tuesday.

Tazneen Miriam Sailar -- a Manchester-born convert to Islam married to an Indonesian jihadist who was killed in Syria -- is not charged with terror offences.

But she and her late husband are on an Indonesian police list of suspected extremists that includes several foreigners notorious in the West.

Sailar, 47, and her 10-year-old Indonesia-born son, were being held in Jakarta after being picked up last year without documents allowing her to remain in the Southeast Asian nation, her lawyer Farid Ghozali said.

"She was put (in detention) while awaiting her return, which will be facilitated by the British embassy," Indonesian immigration directorate spokesman Ahmad Nursaleh told AFP.

The embassy declined to comment, and it was unclear when she might be deported.

The police docket does not specify why Sailar was named with some 400 other terror suspects -- including her husband -- on the Indonesian list.

He was killed in Syria in 2015.

The couple´s 2010 marriage was officiated by radical Indonesian cleric Abu Bakar Bashir, the spiritual head of extremist group Jemaah Islamiyah (JI), according to sources familiar with the case.

JI members were behind the 2002 Bali bombings which killed more than 200 people -- including nearly 90 Australian holidaymakers -- at two packed bars on the Indonesian island.

Sailar operated a charity named after her late husband, which sent aid to women and children in conflict-wracked Syria, sources said.

She arrived in Muslim-majority Indonesia in 2005 as a medical volunteer for a Christian humanitarian foundation that assisted victims of natural disasters, lawyer Ghozali and a source said.

Jakarta-based security analyst Sidney Jones said Sailar´s appearance on the list could restrict her ability to travel and work.

"If you´re on this list, it will loom over your head," Jones said.

"For this woman, I don´t know what will happen to her if she goes back to the UK."

Several alleged members of the Taliban and IS appear on the Indonesian police list, as well as radical British Islamist Anjem Choudary and Sally-Anne Jones, a recruiter reportedly killed in a US drone strike in Syria.

Maxime Hauchard, a French convert linked to a gruesome IS beheading, and countryman Peter Cherif, a close associate of the siblings who killed staff at Charlie Hebdo magazine in 2015, are also on it.

Sailar was born in Manchester on February 20, 1973, and holds a British passport, according to the list, which also said she goes by at least two aliases.

Indonesian investigators questioned Sailar but no charges were filed, her lawyer said.

"So we´re now focused on immigration matters," he said, adding that Sailar wants to remain in Indonesia.