Upacara HUT RI, Terduga Teroris Padang Rencanakan Aksi Teror
Indonesia Says Militant`s Arrest reveals Plots, New IS Links
Editor : Ismail Gani
Translator : Novita Cahyadi

PUBLISHED: Selasa, 23 Juli 2019 , 22:47:00 WIB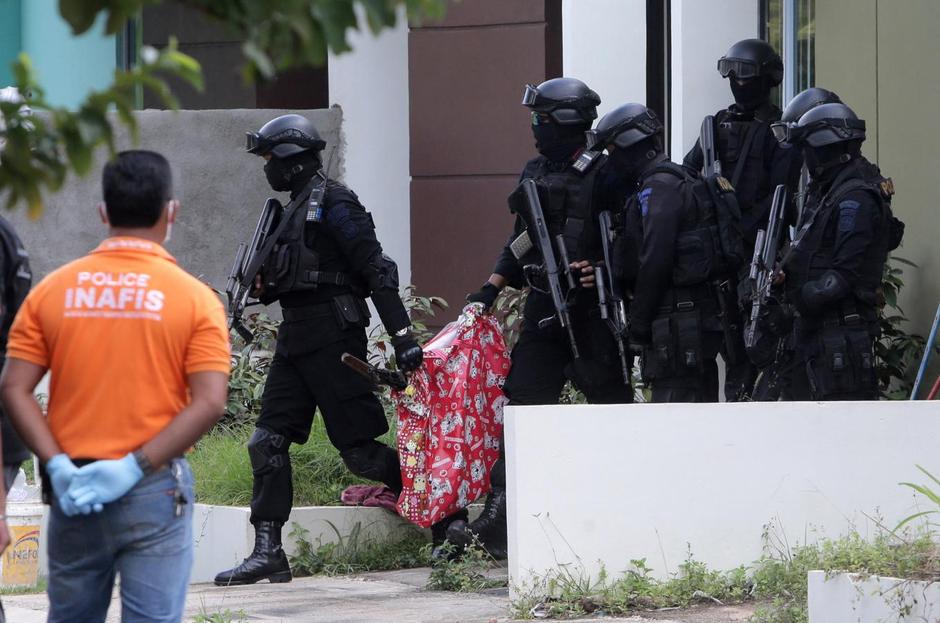 Petugas dari unit anti-terorisme Indonesia, Densus 88, menangkap terdiga teroris di provinsi Sumatra Barat Kamis lalu [Foto: Reuters]
KEPOLISIAN RI [Polri] pada Selasa mengatakan seorang tersangka teroris yang ditangkap pekan lalu merencanakan aksi teror pada upacara HUT Republik Indonesia, 17 Agustus nanti di Kota Padang, Sumatera Barat, Polri menduga bahwa mereka merupakan bagian dari jaringan di balik terorisme di Filipina yang juga memiliki hubungan dengan Negara Islam [ISIS] di Afghanistan.
Petugas dari unit anti-terorisme Indonesia, Densus 88, menangkap terdiga teroris di provinsi Sumatra Barat Kamis lalu, kata Karopenmas Mabes Polri Brigjen Pol Dedi Prasetyo kepada pers di Mabes Polri, Jakarta pada Selasa [23/7].
Tersangka, yang diidentifikasi sebagai Novendri, adalah anggota kelompok Jemaah Ansharut Daulah (JAD) yang diilhami oleh ISIS, yang dilarang di Indonesia tahun lalu karena "melakukan terorisme" dan berafiliasi dengan militan asing.
Pihak berwenang meyakini Novendri sedang merencanakan serangan bom termasuk dua markas besar polisi di kota Padang, Sumbar dan pos-pos polisi lainnya pada Hari Kemerdekaan pada 17 Agustus, kata Prasetyo.
Polisi memperlihatkan grafik di konferensi pers, yang menetapkan dugaan hubungan militan asing Indonesia termasuk seorang pemimpin, yang diidentifikasi sebagai Saefulah, yang diyakini berbasis di daerah Afghanistan di mana gerilyawan ISIS beroperasi.
Menurut Prasetyo, beberapa militan Indonesia telah mencoba mencapai Afghanistan setelah kekalahan ISIS di Irak dan Suriah.
Orang Indonesia lain dalam daftar, yang ditangkap di kota Bekasi di Jawa Barat, dicurigai merencanakan serangan bunuh diri di ibukota, Jakarta, selama protes pada Mei atas pemilihan yang disengketakan, kata Prasetyo.
Polisi juga berpikir jaringan itu memiliki hubungan dengan militan di Filipina dan membantu sepasang suami istri bepergian ke sana dari Sulawesi.
Pihak berwenang meyakini pasangan itu melakukan serangan bunuh diri di sebuah katedral di pulau Jolo di Filipina selatan pada Februari di mana 22 orang tewas.
Prasetyo mengatakan bahwa perwira anti-terorisme Indonesia sedang bekerja dengan polisi dari berbagai negara termasuk Malaysia, Filipina, Afghanistan, Amerika Serikat dan Australia dalam penyelidikan mereka.
Indonesia, yang merupakan negara mayoritas Muslim terbesar di dunia, sedang menghadapi kebangkitan militansi.
Pemerintah berusaha keras untuk memperketat undang-undang anti-terorisme setelah serangkaian pemboman bunuh diri terkait dengan sel JAD menewaskan lebih dari 30 orang di kota Surabaya tahun lalu.
Ratusan orang telah ditahan di bawah undang-undang baru sejak awal 2019 seperti dikutip Reuters yang dilansir MailOnline.
INDONESIAN police said on Tuesday a suspected militant arrested last week was plotting Independence Day bomb attacks and they suspect he was part of a network behind violence in the Philippines that also has ties to Islamic State in Afghanistan.
Officers from Indonesia´s anti-terrorism unit, Densus 88, arrested the suspect in the province of West Sumatra last Thursday, national police spokesman Dedi Prasetyo told a news conference.
The suspect, identified as Novendri, was a member of the Islamic State-inspired Jemaah Ansharut Daulah (JAD) group, which was banned in Indonesia last year for "conducting terrorism" and being affiliated with foreign militants.
Authorities believe Novendri was planning bomb attacks including two police headquarters in the city of Padang in West Sumatra province and other police posts on Independence Day on Aug. 17, Prasetyo said.
Police displayed a chart at the news conference, setting out the suspected foreign links of Indonesian militants including a leader, identified as Saefulah, who is believed to be based in an area of Afghanistan where Islamic State militants operate.
According to Prasetyo, some Indonesian militants had tried to reach Afghanistan after the defeat of Islamic State in Iraq and Syria.
Another Indonesian on the chart, who was arrested in the city of Bekasi in West Java, was suspected of planning a suicide attacks in the capital, Jakarta, during protests in May over a disputed election, said Prasetyo.
Police also think the network had links to militants in the Philippines and helped a husband and wife travel there from Indonesia´s Sulawesi island.
Authorities believe the couple carried out a suicide attack on a cathedral on Jolo island in the southern Philippines in February in which 22 people were killed.
Prasetyo said Indonesian anti-terrorism officers were working with police from various countries including Malaysia, the Philippines, Afghanistan, the United States and Australia in their investigation.
Indonesia, which is the world´s biggest Muslim-majority country, is grappling with a resurgence in militancy.
The government scrambled to tighten its anti-terrorism laws after a series of suicide bombings linked to JAD cells killed more than 30 people in the city of Surabaya last year.
Hundreds of people have been detained under the new laws since the beginning of 2019.