Pameran di Mancanegara Dongkrak Ekspor UKM 20,72%
Exhibitions Abroad Boost Profits of Indonesian SMEs - Ministry
Reporter : Gusmiati Waris
Editor : Cahyani Harzi
Translator : Dhelia Gani

PUBLISHED: Sabtu, 20 Januari 2018 , 00:53:00 WIB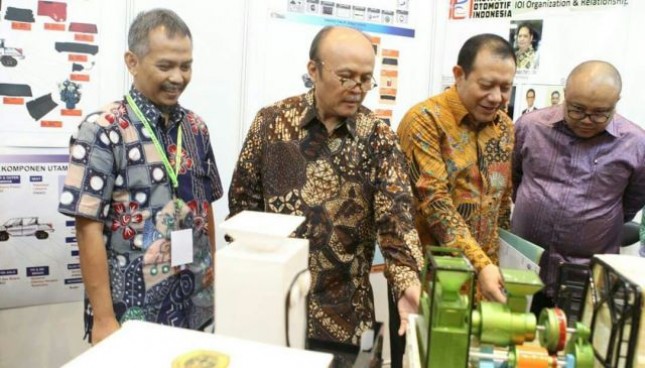 PAMERAN MANCANEGARA: Deputi Bidang Produksi dan Pemasaran Kemenkop UKM, I Wayan Dipta (ke-2 kiri) Foto: istimewa
Jakarta (B2B) - Kementerian Koperasi dan UKM mendorong dan memfasilitasi 109 pengusaha UKM mengikuti pameran di mancanegara sepanjang 2017, ternyata berdampak positif karena mendongrak nilai ekspor 20,72%, dari Rp20,27 miliar pada 2016 menjadi Rp24,47 miliar pada 2017 dengan kontribusi devisa negara Rp61,78 miliar melalui order buyers on site.

"Hasil nyata dari pameran UKM di luar negeri menghasilkan pemasukan bagi negara 12 kali lipat dari alokasi anggaran promosi pameran, omset meningkat 4,74 persen dan tenaga kerja 18,27 persen," kata Deputi Bidang Produksi dan Pemasaran Kemenkop UKM, I Wayan Dipta kepada pers di Jakarta pada Jumat (19/1).

Menurutnya, setiap UKM yang beminat mengikuti pameran di mancanegara wajib melalui tahapan ketat, diawali seleksi dan kurasi oleh tim ahli didukung persyaratan administrasi seperti sertifikat hak cipta, merek, halal untuk makanan dan minuman, ISO, kapasitas produksi dan keunggulan produk.

"Itu yang menjadi kriteria untuk menentukan apakah layak diikutkan atau tidak. Jadi kita tidak serta-merta dengan mudah mengajak mereka. Yang minat sih banyak," katanya.

Untuk 2018, Kemenkop UKM memfasilitasi pameran internasional yakni Malaysia International Halal Showcase di Mihas, Chibimart Summer di Italia, Festival Indonesia Fair di Moskow, targetnya 30 UKM.
Jakarta (B2B) - Indonesian government through the Cooperatives and SMEs ministry last year facilitated 109 SME entrepreneurs to participate in exhibitions abroad, in fact boost export value of 20.72%, or 20.27 billion rupiah in 2016 to 24.47 billion rupiah in 2017 with foreign exchange of Rp61, 78 billion through order buyers on site.

"Exhibitions abroad also benefited the government, turnover increased by 4.74 percent and labor 18.27 percent," the Deputy Minister of Production and Marketing, I Wayan Dipta told the press here on Friday (January 19).

According to him, every SMEs who are interested in participating in overseas exhibitions must undergo selection and curation of expert teams supported by copyright, brand, halal certificates for food and beverage, ISO, production capacity and product excellence.

"The criteria determine whether it is feasible or not, not just participate in exhibitions abroad, SMEs are interested a lot," he said.

For 2018, the ministry facilitated the international exhibition of Malaysia International Halal Showcase at Mihas, Chibimart Summer in Italy, the Festival of Indonesia Fair in Moscow, with a target of 30 Indonesian SMEs.