Atasi Carut-Marut Data UMKM di 24 K/L, Kemenkop UKM Kembangkan Platform Digital
Indonesian Govt is Developing Digital-based SME Data
Reporter : Gusmiati Waris
Editor : Cahyani Harzi
Translator : Dhelia Gani

PUBLISHED: Minggu, 05 November 2017 , 22:22:00 WIB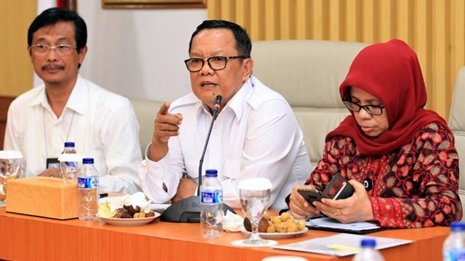 Deputi Bidang Restrukturisasi Usaha Kemenkop UKM, Abdul Kadir Damanik (tengah) Foto: istimewa
Jakarta (B2B) - Pemerintah RI mengembangkan pusat informasi bisnis dan basis data (by name by address) tentang UMKM yang berkelanjutan dan terbarukan melalui website http:/ukmindonesia.org, hal itu untuk menjawab carut-marutnya data UMKM di seluruh Indonesia yang tersebar di 24 kementerian dan lembaga pemerintah (K/L), dan UMKM hingga akhir 2016 mencapai 26,7 juta merujuk data Badan Pusat Statistik (BPS).

Deputi Bidang Restrukturisasi Usaha Abdul Kadir Damanik mengatakan Kementerian Koperasi dan UKM menggandeng Lembaga Penyelidikan Ekonomi Masyarakat (LPEM) Fakultas Ekonomi dan Bisnis Universitas Indonesia untuk mengembangkan Pusat Informasi Bisnis dan Basis Data Umum Berbasis Portal menindaklanjuti nota kesepahaman bersama (MoU) yang telah diteken oleh Menteri Koperasi dan UKM, AAGN Puspayoga.

Abdul Kadir mengatakan kementerian akan mengoptimalkan perannya mengoordinasikan dan mengendalikan program pengembangan UMKM dengan dukungan sistem web portal yang dikembangkan oleh UI dengan http:/ukmindonesia.org.

"Melalui portai ini kita akan mendapatkan data yang lengkap bukan, atas kita cari, tapi atas dasar dia (UMKM) datang," kata Abdul Kadir.

Menurutnya, http:/ukmindonesia.org saat ini sudah hadir sebagai pusat informasi perizinan usaha UMKM pertama dan satu-satunya di Indonesia, serta akan terus dikembangkan sebagai pusat informasi bisnis dan basis data UMKM di Indonesia.

"Nanti ke depan tidak perlu lagi melakukan survei tapi dia (UMKM) sendiri yang mendata di portal untuk input informasi," katanya.

Dia menambahkan, penyatuan data UMKM ini penting bagi pemerintah dalam mengambil kebijakan khusus terkait dengan penyediaan anggaran. Dengan tidak disatukan data UMKM seperti yang terjadi selama ini akibatnya sangat tidak efisien dan menjadi ekonomi biaya tinggi.

Data BPS menyebutkan jumlah UMK 2006 sebanyak 22,7 juta, dan meningkat menjadi 26,7 juta pada akhir 2016. UMK tersebut mayoritas di Pulau Jawa sekitar 16,22 juta atau 60,74% Disusul Sumatera 4,97 juta (18,61%), Bali dan Nusa Tenggara 1,52 juta (5,68%).
Jakarta (B2B) - Indonesian government developing a business and database of SMEs by name by address that is sustainable and renewable through the website http: /ukmindonesia.org, to answer the chaotic data of SMEs across the country on 24 ministries and government agencies, and the number of SMEs until the end of 2016 reached 26.7 million of the Central Statistics Agency (BPS) data, according to senior official.

The Deputy Minister of Business Restructuring, Abdul Kadir Damanik said the ministry is supported by the Institute for Economic Investigation of the University of Indonesia to develop the Business Information and Data Center website was signed by Indonesia Cooperatives and SMEs Minister AAGN Puspayoga.

Mr Kadir said the ministry will optimize its role of coordinating and controlling the SME development program with http: /ukmindonesia.org.

"Through this official site we will get complete data because of awareness of SMEs," he said.

The site of http: /ukmindonesia.org is currently the first and only SMEs business licensing information center in Indonesia, which will continue to be developed as a business information center and SME database in Indonesia.

"Going forward, we no longer need to conduct surveys but SMEs themselves who input information on the site," he said.

He said the unification of SME data is important for the government in taking policy related to the state budget.

The BPS data said the number of SMEs in 2006 was around 22.7 million, and increased to 26.7 million by the end of 2016. The majority of SMEs in Java reached 16.22 million or 60.74%, Sumatra 4.97 million (18.61% ), Bali and Nusa Tenggara 1.52 million (5.68%).