12 Juli 2018, Hari Koperasi Nasional Dijadwalkan di Istana Kepresidenan
Indonesia`s Cooperative Day will be Commemorated in the Presidential Palace
Reporter : Gusmiati Waris
Editor : Cahyani Harzi
Translator : Dhelia Gani

PUBLISHED: Sabtu, 09 Juni 2018 , 06:35:00 WIB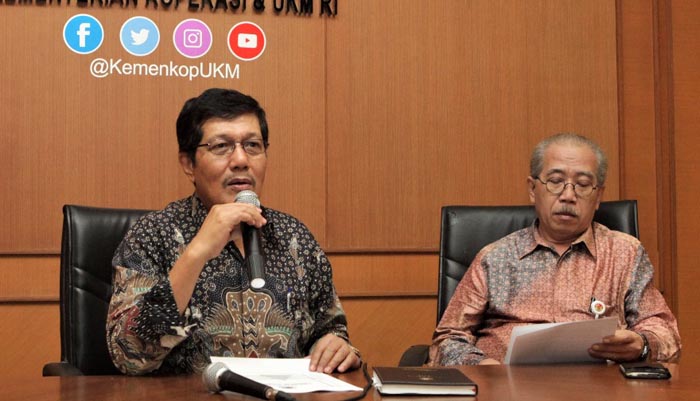 Sekretaris Jenderal Dewan Koperasi Indonesia (Dekopin) Neddy Rafinaldy (kiri) Foto: B2B/Mya
Jakarta (B2B) - Peringatan Hari Koperasi Nasional (Harkopnas) pada 12 Juli 2018 dijadwalkan berlangsung di Istana Kepresidenan, sebagai bukti bahwa koperasi telah setara dengan badan usaha lain seperti BUMN dan perusahaan swasta, karena pelaku koperasi terbaik layak diterima oleh Presiden RI Joko Widodo.
"Ada yang berbeda dalam perayaan Hari Koperasi Nasional tahun ini yaitu para pelaku koperasi akan masuk istana dan bersilaturahmi langsung dengan Presiden," kata Sekretaris Jenderal Dewan Koperasi Indonesia (Dekopin) Neddy Rafinaldy kepada pers di Jakarta, Jumat (8/6).
Menurutnya, sudah saatnya menunjukkan kekuatan koperasi di Indonesia sebagai penggerak pertumbuhan ekonomi yang nyata seperti koperasi Indonesia yang mampu menembus jajaran koperasi besar dunia, koperasi yang memiliki aset triliunan rupiah dengan ribuan anggota, bahkan ada pula anak usaha koperasi masuk bursa saham melalui Bursa Efek Indonesia (BEI).
Neddy menambahkan, pemilihan Istana Kepresidenan sebagai tempat pelaksanaan puncak kegiatan Harkopnas, untuk menunjukkan bahwa koperasi telah setara dengan badan usaha lain.
"Kita ingin tunjukkan bahwa bukan hanya BUMN atau perusahaan swasta besar saja yang bisa diterima di Istana, kita juga harus tunjukkan bahwa koperasi pun mampu dan layak," katanya.
Acara puncak kata Neddy, akan dirangkai dengan Harkopnas Expo di ICE BSD Tangerang Banten, pasar rakyat, jalan sehat, bakti sosial, ziarah ke Makam Bung Hatta, Bapak Koperasi Indonesia, dan renungan suci di Tugu Koperasi Tasikmalaya oleh Dekopin Wilayah Jawa Barat.
"Selain itu ada pula diskusi dan seminar koperasi nasional. Kemudian pemberian penghargaan kepada koperasi berprestasi serta penghargaan para tokoh yang dianggap berjasa membangun koperasi dan UKM," katanya.
Jakarta (B2B) - Commemoration of Indonesia Cooperative Day or Harkopnas on July 12, 2018 is scheduled to take place at the Presidential Palace, to prove the cooperative is equivalent to other business entities such as state-owned enterprises and private companies, and the best cooperative board is worth meeting President Joko Widodo.
"There is something different in this year's commemoration, Indonesia's best cooperative board to meet the president at his palace," Secretary General of Indonesia Cooperative Council, Neddy Rafinaldy told the press here on Friday (June 8).
According to him, it is time to show the ability of Indonesian cooperatives as a driver of economic growth, and already equal to the world's best cooperatives, even there is also a subsidiary of the cooperative entered the stock exchange through Indonesia Stock Exchange (BEI).
Mr Rafinaldy said that the Presidential Palace The Presidential Palace was chosen because to show that the cooperative has been equivalent to other business entities.
"We want to show that not only state-owned or large private companies are capable, cooperatives are capable and appropriate," he said.
Harkopnas will hold an expo in ICE BSD Tangerang Banten, people market, social service, and others.
"Followed national cooperative discussions and seminars, then awards to exemplary cooperatives, and awards for prominent figures who built cooperatives and SMEs," he said.