DPD Ingatkan LPDB KUMKM Permudah Syarat Koperasi dan UKM Raih Dana Bergulir
Indonesian Govt Asked to Simplify Requirements of Cooperatives and SMEs to Lend Capital
Reporter : Gusmiati Waris
Editor : Cahyani Harzi
Translator : Dhelia Gani

PUBLISHED: Jum'at, 22 September 2017 , 00:57:00 WIB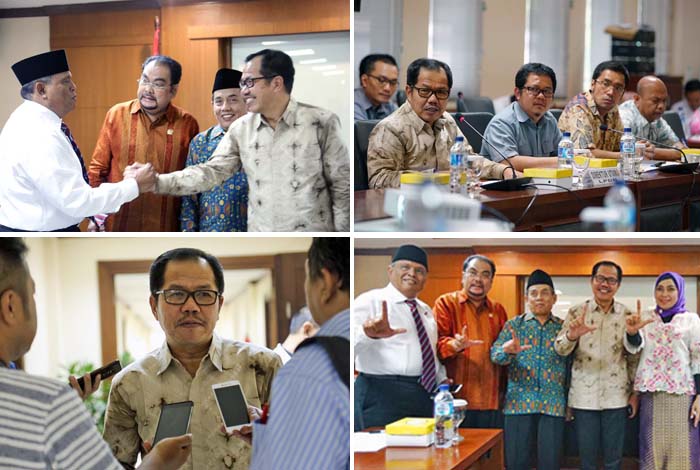 Direktur Utama LPDB KUMKM Braman Setyo (batik krem) pada rapat dengar pendapat dengan Komite IV DPD RI (Foto2: Humas Kemenkop UKM)
Jakarta (B2B) - Lembaga Pengelola Dana Bergulir Koperasi dan Usaha Mikro Kecil dan Menengah (LPDB KUMKM) mempertimbangkan usulan Komite IV DPD RI untuk mempermudah persyaratan untuk mengakses dana bergulir LPDB, dengan pertimbangan apabila kegiatan usaha calon penerima LPDB sudah berjalan baik, kenapa harus menunggu dua tahun apabila satu tahun atau 1,5 tahun layak menerima pinjaman modal dari LPDB.

Direktur Utama LPDB KUMKM Braman Setyo mengatakan selaku manajemen baru dari badan layanan umum (BLU) tersebut maka pihaknya selalu berusaha membantu koperasi dan pelaku UMKM untuk mengakses permodalan, dan akan mempertimbangkan usulan dari DPD.

"Kalau memang usahanya sudah berjalan mengapa harus menunggu sampai dua tahun, kalau bisa satu tahun atau 1,5 tahun. Kalau memang sudah layak maka bisa diberikan dana dari LPDB. Hal itu akan kami pertimbangkan," kata Braman Setyo kepada pers usai rapat dengar pendapat (RDP) dengan Komite IV DPD RI yang dipimpin ketua Ajip Patindang didampingi Siska Marleni dan Ayi Hambali di Jakarta, Rabu (20/9).

Menurutnya, persyaratan yang ditetapkan LPDB pada dasarnya hanya tiga yakni cash colateral, deposito minimal 10% dari dana yang akan diambil kemudian fix asset dan jaminan dari lembaga penjamin, untuk mengantisipasi era kompetitif saat ini sehingga dapat mewujudkan target Kementerian Koperasi dan UKM mewujudkan koperasi dan UKM sejajar dengan badan usaha lain.

"Koperasi yang akan mengakses dana bergulir LPDB harus baik, tidak boleh koperasi asal-asalan, karena bunganya murah, sesuai tekad Menkop dan UKM untuk mereformasi dan reorientasi koperasi," kata Braman Setyo.
Jakarta (B2B) - The Indonesia´s fund management institutions lending to cooperatives and micro, small and medium enterprises called the LPDB-KUMKM will consider advice of the Regional Representative Council (DPD RI) to facilitate requirement to obtain capital loans from LPDB-KUMKM, considering business activities of the debtor is running well, why wait two years if one year or 1.5 years is eligible for capital loan.

President Director of LPDB-KUMKM Braman Setyo said the new management of public service agency will try to support cooperative and SMEs business activities to get capital loan.

"If the business is running well why should wait until two years, if it can be a year or 1.5 years," Braman Setyo told the press after hearing with the DPD led by senator Ajip Patindang accompanied by Siska Marleni and Ayi Hambali in Jakarta, Wednesday (September 20).

According to him, the requirements of LPDB are only three such as cash colateral, minimum deposit of 10% from capital loan, then fixed asset and guarantee from the guarantor institution, so as to realize target of Cooperatives and SMEs Ministry to realize cooperatives and SMEs in line with other business entities.

"The cooperative that will access LPDB capital loan must be good, not mismanaged cooperative, because the interest rate of capital loan is cheap, according to the government's determination to reform and reorient the cooperative," Mr Setyo said.