Jokowi Beri Hadiah Sepeda Pejabat Tinggi dan Istri Berbusana Adat Terbaik
Indonesia`s Widodo Names Best Traditional Costumes in National Day
Editor : Cahyani Harzi
Translator : Dhelia Gani

PUBLISHED: Kamis, 17 Agustus 2017 , 21:32:00 WIB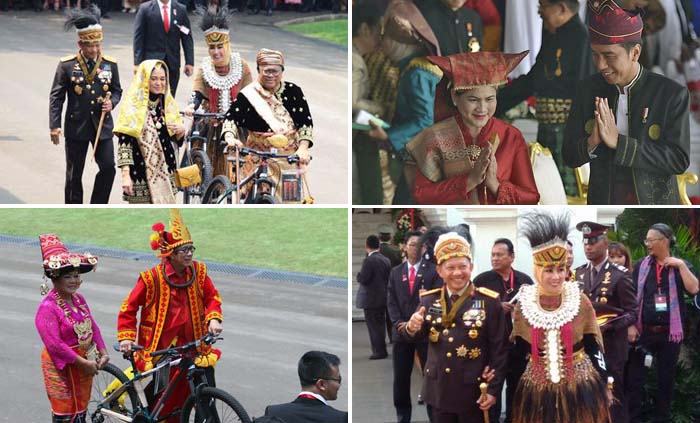 Foto2: istimewa
Jakarta (B2B) - Presiden RI Joko Widodo mengapresiasi para menteri dan pejabat tinggi yang mengenakan busana tradisional pada peringatan HUT Kemerdekaan RI ke-72 di Istana Merdeka pada Kamis (17/8).

"Setelah diputuskan bersama dewan juri, dinyatakan yang memakai busana tradisional terbaik, dan terbaik pertama adalah Menkumham Yasona Laoly dengan baju adat Nias," kata Presiden Jokowi.

Terbaik kedua adalah Oesman Sapta Odang dengan busana adat Minangkabau. Terbaik ketiga adalah Syarif Muhammad, bukan menteri melainkan asisten ajudan dengan busana Dayak Kalimantan Barat. Terbaik keempat Ny Tri Karnavian, istri Kapolri Jenderal Tito Karnavian yang mengenakan pakaian adat Papua dihiasi rumbai pada hijabnya. Terbaik keempat adalah Ny Agati Sulie, istri Wakil Ketua MPR Mahyudin dengan busana adat Dayak.

"Saya telah menyiapkan lima sepeda. Terimakasih, saya kira itu yang bisa saya sampaikan dalam kesempatan yang berbahagia ini," ujar Jokowi yang mengenakan busana adat khas Tanah Bumbu, Kalimantan Selatan menutup acara itu.

Dua pemenang, yaitu Syarif dan Yasonna, meluapkan kegembiraan dengan menunggangi sepeda itu langsung di hadapan para tamu di depan mimbar kehormatan Istana Merdeka.
Jakarta (B2B) - Indonesian President Joko Widodo announced the names of five best traditional costume winners during the 72nd Independence Day ceremony held at the Merdeka Palace here on Thursday.

"I was and the jury has decided on the five who wore the best traditional costumes," President Widodo noted after the ceremony.

The president announced that of the five, Justice and Human Rights Minister Yasonna Laoly who came dressed in the traditional attire of Nias was adjudged the winner for wearing the best traditional costume, followed by Oesman Sapta Odang who wore traditional Minangkabau clothing, presidential assistant aide Syarif Muhamad in a Dayak traditional costume from Dayak West Borneo, wife of the national police chief Tri Karnavian in a Papuan traditional costume and fringe on her shirt, and the fifth was Mrs Agati Sulie Mahyudin who also wore a Dayak traditional costume.

"I have prepared five bikes for the winners, thank you. I think that is what I can say on this auspicious occasion," President Widodo said.

Laoly and Muhamad then expressed their excitement by riding the bikes in front of the guests and the court of honor of the Merdeka Palace.