Presiden RI: Pemerintah Fokus pada Pemerataan Ekonomi dan Jaga Persatuan
Indonesia President: Spread Wealth, Protect Diversity
Editor : Ismail Gani
Translator : Novita Cahyadi

PUBLISHED: Rabu, 16 Agustus 2017 , 23:20:00 WIB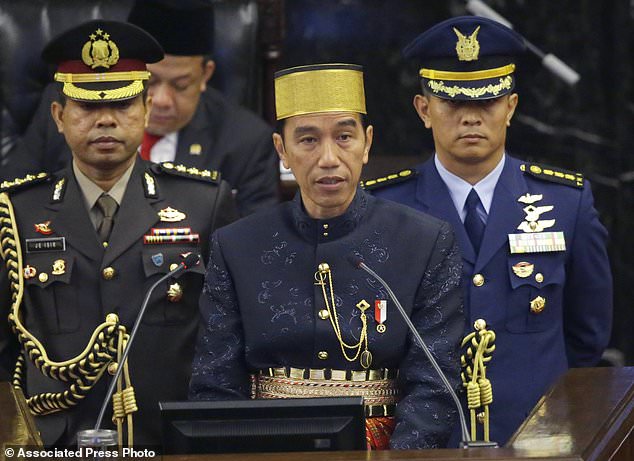 Presiden RI Joko Widodo menyampaikan pidato kenegaraan saat Sidang Bersama DPR dan DPD Tahun 2017 di kompleks parlemen Senayan, Jakarta (Foto: Associated Press/MailOnline)
PRESIDEN RI Joko Widodo pada Rabu mengatakan kebijakan strategis belanja negara dengan komitmen distribusi kekayaan negara yang lebih adil dan komitmen baru untuk melindungi keragaman setelah melalui kritis terancamnya pluralisme ketika toleransi dirusak oleh ketegangan dan ancaman terhadap kaum minoritas.

Presiden Jokowi berulangkali menekankan ketika menyampaikan Pidato Kenegaraan dalam rangka HUT ke-72 Proklamasi Kemerdekaan RI dari penjajahan Belanda, yang disampaikan di depan Sidang Bersama DPD RI dan DPR RI di Jakarta.

Jokowi, presiden Indonesia pertama yang berasal dari luar jajaran elit politik atau militer, mengatakan bahwa pembangunan ekonomi harus menyebar ke seluruh pelosok negara berpenduduk mayoritas Muslim terbesar di dunia.

"Pembangunan yang adil akan menyatukan Indonesia. Perkembangan yang adil akan membuat kita lebih kuat dalam menghadapi persaingan global," katanya.

Indonesia adalah negara demokrasi terbesar ketiga setelah India dan AS dan sebagai anggota Kelompok 20 negara industri dan berkembang utama, kekuatan ekonominya termasuk yang terbesar di dunia. Namun kesenjangan ekonomi setelah si kaya makin kaya dan miskin makin miskin, masih ada penduduk kurang gizi dan meningkatnya penyakit akibat obesitas di kalangan orang kaya. Sekitar 11 persen dari penduduk lebih dari 250 juta orang hidup dalam kemiskinan.

Penduduk yang bermukim di provinsi paling barat Indonesia, Aceh, provinsi yang diberi otonomi khusus sesuai kesepakatan damai pada 2004 Gerakan Aceh Merdeka (GAM), harus bisa mendapatkan standar pendidikan, pelayanan kesehatan dan layanan lain yang sama seperti di provinsi lain di seluruh Indonesia," kata Jokowi.

Dia juga menekankan wilayah paling timur Indonesia, yakni Papua, yang harus mendapat perhatian khusus dari pemerintah pusat, Jokowi mengatakan bahwa dia mendambakan orang Papua merasakan kebanggan nasional yang sama dengan etnis lain yang membentuk Indonesia.

Dia mengatakan pemerintah akan memperkuat komitmennya untuk melindungi gagasan "kesatuan dalam keragaman" dan "Pancasila," ideologi negara dengan lima sila sebagai dasar negara menjunjung prinsip-prinsip kepercayaan pada satu Tuhan, keadilan sosial, dan demokrasi seperti dikutip Associated Press yang dilansir MailOnline.
INDONESIA'S president on Wednesday vowed a fairer distribution of the nation's wealth and a renewed commitment to protecting diversity after volatile months in which the country's reputation for tolerance was undermined by religious tensions and attacks on minorities.

Joko "Jokowi" Widodo repeated familiar themes in his annual address to parliament that comes a day before celebrations of the 72nd anniversary of Indonesia's independence from Dutch colonial rule.

Jokowi, the first Indonesian president from outside the ranks of the elite or military, said economic development must be spread to all corners of the world's most populous Muslim-majority nation.

"Equitable development will unite Indonesia. Fair development will make us stronger in facing global competition," he said.

Indonesia is the third largest democracy after India and the U.S. and as a member of the Group of 20 major industrialized and developing nations, its economy is among the biggest in the world. But it has dramatic extremes of wealth and poverty, grappling with both childhood stunting from malnutrition and a mounting health care burden from obesity-related diseases among the wealthier. About 11 percent of the country of more than 250 million people lives in extreme poverty and large numbers are just above that poverty line.

People in far-flung areas of the archipelago such as the westernmost province of Aceh, a region granted substantial autonomy under a peace deal in 2004 with separatists, should be able to get the same standard of education, health care and other services as their "brothers" around the country, Jokowi said.

He also singled out the easternmost Papua region, one of the country's poorest areas where Indonesian rule is deeply resented by indigenous Papuans, saying he wants Papuans to feel the same nationalistic pride as other ethnic groups that make up Indonesia.

He said the government will strengthen its commitment to protecting the idea of "unity in diversity" and "Pancasila," the official state ideology that promotes principles such as social justice, democracy and belief in one God.

It has been seen as under increasing threat from an upsurge in religious conservatism that led to the imprisonment earlier this year of the then-governor of Jakarta, a minority Christian and ethnic Chinese, on charges of blasphemy.

Persecution of LGBT people has surged in the past two years and religious minorities have faced an increase in violations of religious freedom and acts of intolerance including the eviction of more than 7,000 members of the Gafatar religious community in Kalimantan in early 2016.