Jokowi Kembali Didukung PDIP Maju Pilpres 2019
Biggest Indonesian Party Backs President Widodo for New Term
Editor : Ismail Gani
Translator : Novita Cahyadi

PUBLISHED: Jum'at, 23 Februari 2018 , 23:00:00 WIB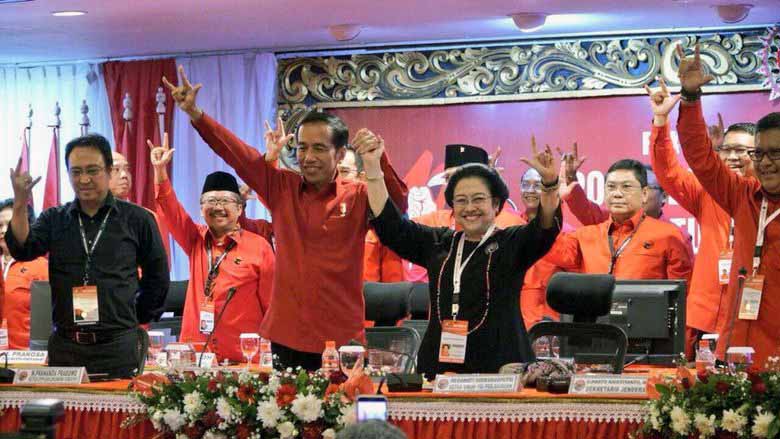 Presiden Jokowi dan Megawati Soekarnoputri (Foto: istimewa)
PARTAI POLITIK terbesar di DPR RI pada Jumat menetapkan Presiden Joko Widodo sebagai kandidat pada pemilihan presiden (Pilpres) 2019, bergabung dengan empat parpol lain yang mendukungnya untuk masa jabatan kedua.

Pilpres secara luas diperkirakan akan mengulang kembali pelaksanaan Pilpres 2014 dan diperkirakan akan kembali berhadapan dengan Prabowo Subianto dari Gerindra.

"Saya dengan ini menetapkan bahwa calon presiden PDIP adalah Joko Widodo," kata Megawati Sukarnoputri, Ketua Umum Partai Demokrasi Indonesia - Perjuangan (PDIP).

Foto-foto yang diunggah di akun Twitter dari Sekretaris Kabinet yang juga kader PDIP, Anung Pramono memperlihatkan Jokowi dan Megawati tersenyum sambil mengangkat tangan mereka bersama didampingi para kader partai.

Seorang kandidat presiden membutuhkan dukungan partai koalisi minimal 25 persen dari hasil pemilu legislatif sebelumnya atau menguasai 20 persen kursi di parlemen.

Empat partai politik lainnya sudah resmi mengumumkan dukungan untuk Jokowi termasuk partai terbesar kedua, Golkar.

Jokowi, mantan pengusaha mebel, adalah presiden pertama Indonesia yang datang dari luar elit politik dan militer.

Mantan gubernur ibu kota, Jakarta, mengalahkan para taipan dan mantan jenderal pada 2014, memenangkan gelombang dukungan untuk gaya energiknya dan aktif menentang korupsi.

Sementara di Istana, Jokowi mendorong untuk membangun infrastruktur meskipun pertumbuhan tahunan di ekonomi terbesar Asia Tenggara, sekitar 5 persen, belum mencapai 7 persen yang dia janjikan saat berkampanye pada 2014.

Jokowi tetap menjadi kandidat paling populer dari kebanyakan jajak pendapat.

Hasil jajak pendapat Saiful Mujani Research and Consulting mengatakan dalam sebuah survei bulan Desember, 53 persen responden akan mendukung Jokowi, sementara saingan terdekatnya, Prabowo, mendapat 18,5 persen.

Prabowo telah dilaporkan mengatakan bahwa dia bersedia mencalonkan diri sebagai presiden pada 2019, meskipun dia belum mengkonfirmasi hal ini. Kandidat presiden paling lambat mendaftarkan diri pada pertengahan Agustus.

Ketika ditanya tentang wakil presiden untuk Pilpres 2019, Jokowi mengatakan kepada wartawan bahwa dia perlu berkonsultasi dengan pihak lain.

"Kami akan berbicara dengan semua pihak, barulah memberitahu wartawan," katanya seperti dikutip Reuters yang dilansir MailOnline.
INDONESIA´S biggest political party in parliament on Friday endorsed President Joko Widodo as its candidate for elections in 2019, joining four other parties backing him for a second term.

The presidential election is widely expected to be a re-run of a 2014 vote with Widodo taking on retired general Prabowo Subianto of the opposition Gerindra (Greater Indonesia Movement) party.

"I hearby state that the PDIP presidential candidate is Joko Widodo," Megawati Sukarnoputri, chairwoman of the nationalist Democratic Party of Struggle (PDIP) party, said in a video from the party´s congress on the island of Bali.

Photographs on the Twitter feed of cabinet secretary and PDIP member Pramono Anung showed a smiling Widodo and Sukarnoputri holding up their arms together surrounded by party members.

A presidential candidate needs the support of parties together got 25 percent of the national vote in the previous election or have 20 percent of seats in parliament.

Four other political parties have already officially declared support for Widodo including the second-biggest party, Golkar.

Widodo, a former furniture salesman, is Indonesia´s first president to come from outside the political and military elite.

The former governor of the capital, Jakarta, beat tycoons and former generals in 2014, riding a wave of support for his energetic style and tough record on corruption.

While in office, Widodo has led a push to build infrastructure though annual growth in Southeast Asia´s biggest economy, at around 5 percent, has yet to reach the 7 percent he pledged when campaigning in 2014.

Widodo remains the most popular candidate in most opinion polls.

Pollster Saiful Mujani Research and Consulting said in a December survey 53 percent of respondents would support Widodo, while his nearest rival, Subianto, got 18.5 percent.

Subianto has been reported as saying he is willing to run for president in 2019, though he has not confirmed this. Candidates have until mid August to register.

Asked about a vice president for his ticket, Widodo told reporters he would need to consult other parties.

"We will talk to all parties, then we will tell you," he said.