Polisi Lumpuhkan Pelaku Penyerangan di Gereja Lidwina Sleman
Police Shoot Man during Sword Attack on Indonesian Church
Editor : Ismail Gani
Translator : Novita Cahyadi

PUBLISHED: Minggu, 11 Februari 2018 , 19:28:00 WIB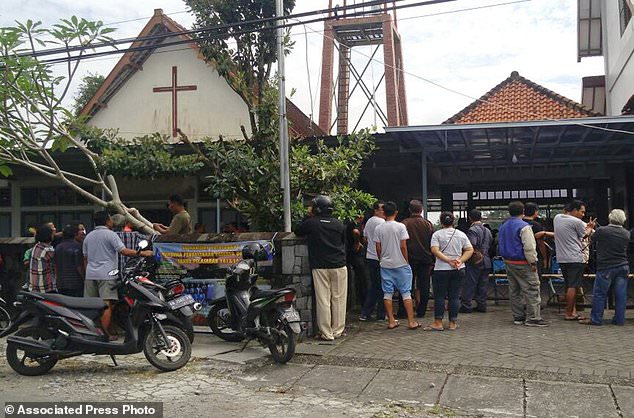 Tersangka, yang diidentifikasi hanya sebagai Suliyono, kini dirawat di rumah sakit (Foto: Associated Press/MailOnline)
POLISI menembak seorang pemuda tidak dikenal yang mengamuk dengan sebilah pedang di Gereja Santa Lidwina Bedok, Jl Jambon, Trihanggo, Gamping, Kabupaten Sleman, Daerah Istimewa Yogyakarta (DIY), setelah mengamuk dan menyerang empat orang termasuk seorang pastur.

Alasan serangan pagi Minggu di Kabupaten Sleman, DIY belum diketahui. Pemuda pelaku penyerangan berusia 22 tahun itu memenggal patung-patung di dalam gereja selama insiden tersebut berlangsung, kata polisi.

Kasat Reskrim Polsek Gamping, Iptu Fendi Timur mengatakan bahwa polisi kontraterorisme akan dilibatkan dalam penyelidikan tersebut.

Video menunjukkan orang-orang di gereja melempar buku ke sang pelaku saat dia menyerang mereka dengan pedangnya. Saksi dan polisi mengatakan, yang terluka termasuk seorang petugas polisi yang mencoba melumpuhhkan pelaku penyerangan tersebut dan pastor berusia 81 tahun Karl Edmund Prier, yang sudah lama bermukim di Indonesia.

Para korban penyerangan menderita luka punggung, leher dan kepala namun dalam kondisi stabil.

Tersangka, yang diidentifikasi hanya sebagai Suliyono, kini dirawat di rumah sakit seperti dikutip Associated Press yang dilansir MailOnline.
POLICE in Indonesia shot a sword-wielding man who attacked a church congregation during Sunday Mass, injuring four people, including a German priest.

The reason for the attack Sunday morning in Sleman district in Yogyakarta province was not immediately clear. The 22-year-old attacker decapitated statues of Jesus Christ and the Virgin Mary during the incident, officials said.

Churches are a common target for Islamic militants in Indonesia, the world´s most populous Muslim nation.

Local police detective Fendi Timur said counterterrorism police would be involved in the investigation.

Video shows people in the church throwing books at the man as he lunged toward them with his sword. Witnesses and police said the injured included a police officer who tried to subdue the attacker and the 81-year-old priest Karl Edmund Prier, a longtime resident of Indonesia.

They suffered back, neck and head wounds and are in stable condition.

The suspect, identified only as Suliyono, was hospitalized.