Militan Donatur Bom Thamrin Divonis 10 Tahun Penjara
Indonesian Militant Gets 10 Years Jail for Conspiracy
Editor : Ismail Gani
Translator : Novita Cahyadi

PUBLISHED: Selasa, 06 Februari 2018 , 23:25:00 WIB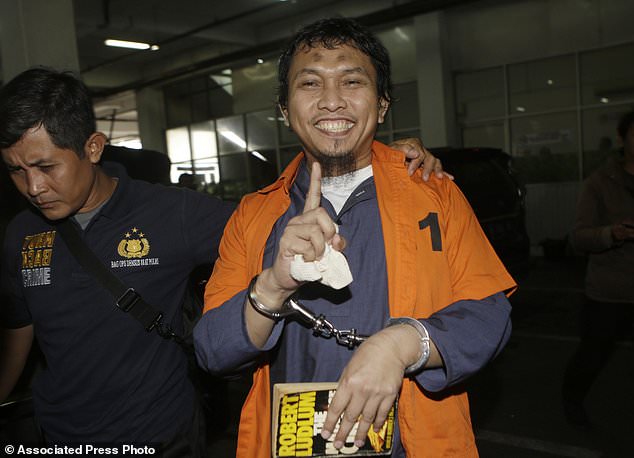 Suryadi Mas´ud yang berusia 45 tahun, yang menggunakan beberapa alias, mengangkat satu jari dan berteriak "AllahuAkbar," setelah vonis dibacakan (Foto: MailOnline)
PENGADILAN menjatuhkan vonis hukuman penjara hingga 10 tahun pada Selasa setelah terdakwa terbukti bersalah dan meyakinkan melakukan permufakatan jahat untuk pidana terorisme, dan terbukti membantu menyediakan dan pengumpulan dana untuk pidana terorisme.

Terdakwa, Suryadi Mas´ud, ditangkap pada Maret bersama dengan tiga tersangka militan lainnya yang menurut polisi berusaha mendirikan sebuah kamp pelatihan jihad di Indonesia timur.

Dalam putusannya, majelis hakim tiga anggota di Pengadilan Negeri Jakarta Barat mengatakan Suryadi bersalah melakukan konspirasi ´jahat´ untuk melakukan tindakan teror. Majelis hakim juga memerintahkan Suryadi membayar denda sebesar Rp50 juta subsider enam bulan penjara.

Suryadi Mas´ud yang berusia 45 tahun, yang menggunakan beberapa alias, mengangkat satu jari dan berteriak "AllahuAkbar," setelah vonis dibacakan.

Polisi mengatakan keempat tersangka, yang ditangkap di beberapa lokasi di Pulau Jawa, terhubung dengan empat gerilyawan yang disergap oleh polisi pada hari yang sama di dekat Jakarta, di mana satu orang ditembak mati.

Polisi mengatakan, kedelapan orang tersebut adalah anggota Jemaah Ansharut Daulah, sebuah jaringan kelompok ekstremis Indonesia yang dibentuk pada 2005 dan dipimpin oleh seorang ulama radikal Aman Abdurrahman yang berjanji akan setia kepada pemimpin kelompok negara Islam Abu Bakr al-Baghdadi.

Mas´ud mengatakan kepada polisi bahwa dia telah melakukan perjalanan ke Filipina beberapa kali untuk membeli senapan M16 dan M14 serta pistol dari militan di sana.

Sedikitnya lima senjata dikirim dari Filipina, termasuk dua yang digunakan dalam serangan bom bunuh diri di Jakarta dan serangan senjata pada Januari 2016 yang menewaskan delapan orang termasuk empat penyerang, kata polisi.

Mas´ud mengatakan kepada pengadilan bahwa dia tidak tahu dimana senjata itu digunakan.

Indonesia, negara berpenduduk Muslim terbesar di dunia, telah melakukan tindakan keras terhadap jihadis yang kejam sejak bom Bali 2002 oleh radikal berafiliasi al-Qaida yang menewaskan lebih dari 200 orang, kebanyakan orang asing. Ancaman baru muncul dalam beberapa tahun terakhir dari para simpatisan IS.

Polisi mengatakan bahwa kelompok tersebut berencana mendirikan sebuah kamp pelatihan jihad baru di Halmahera, pulau utama di provinsi Maluku Utara, yang relatif dekat dengan militan Abu Sayyaf di Filipina selatan. Rencananya, milisi berafiliasi IS yang bermarkas di Poso di Sulawesi Tengah hancur akibat serangan polisi dan militer selama berbulan-bulan yang juga membunuh pemimpin mereka, Abu Wardah Santoso.

Hakim mengatakan uang yang digunakan oleh Mas´ud untuk membeli senjata berasal dari Iwan Darmawan, alias Rois, yang sedang menjalani hukuman di pulau penjara Nusa Kambangan di Jawa Tengah. Mereka mengatakan Mas´ud menerima $ 23.210 melalui saudara laki-laki Darmawan, Adi Jihadi.

"Anda harus bertobat, karena akan segera kiamat," kata Suryadi kepada wartawan saat dia meninggalkan ruang sidang.

Vonis serupa akan diterapkan pada tiga tersangka lainnya pada Rabu seperti dikutip AFP yang dilansir MailOnline.
AN INDONESIA court sentenced an Islamic militant to 10 years in prison on Tuesday after finding him guilty of procuring weapons for his network to use in attacks.

The defendant, Suryadi Mas´ud, was arrested in March along with three other suspected militants who according to police were trying to establish a jihadist training camp in eastern Indonesia.

In its verdict, a three-member panel of judges at the West Jakarta District Court said Mas´ud was guilty of an "evil" conspiracy to carry out terror acts. The panel also ordered Mas´ud to pay a fine of $3,700 or serve six more months in jail.

The 45-year-old Mas´ud, who uses several aliases, raised a finger and shouted "Allah Akbar," or "God is Great," after the verdict was read.

Police said the four suspects, arrested in several locations on Java Island, were connected to four militants ambushed by police on the same day near Jakarta, where one was fatally shot.

Police said all eight were members of Jemaah Anshorut Daulah, a network of Indonesian extremist groups formed in 2005 and led by imprisoned radical cleric Aman Abdurrahman that pledges allegiance to Islamic State group leader Abu Bakr al-Baghdadi.

Mas´ud told police he had traveled to the Philippines several times to purchase M16 and M14 rifles as well as pistols from militants there.

At least five guns were sent from the Philippines, including two that were used in a Jakarta suicide bombing and gun attack in January 2016 which killed eight people including four attackers, police said.

Mas´ud told the court that he did not know where the weapons were used.

Indonesia, the world´s most populous Muslim country, has waged a sustained crackdown on violent jihadis since the 2002 Bali bombings by al-Qaida-affiliated radicals that killed more than 200 people, mostly foreigners. A new threat has emerged in the past several years from IS sympathizers.

Police said the group was planning to establish a new jihadist training camp in Halmahera, the main island in North Maluku province, which is relatively close to Abu Sayyaf militants in the southern Philippines. It was planned after IS-affiliated militants based in Poso in Central Sulawesi were decimated by months-long police and military attacks that also killed their leader, Abu Wardah Santoso.

The judges said money used by Mas´ud to buy the weapons came from Iwan Darmawan, alias Rois, who is serving a sentence on the prison island of Nusa Kambangan in Central Java. They said Mas´ud received $23,210 through Darmawan´s brother, Adi Jihadi.

"You must repent, because it´s going to be doomsday," Mas´ud told reporters as he left the courtroom.

Verdicts are expected for the three other suspects on Wednesday.