Piton Raksasa Digoreng Warga setelah Serang Penangkapnya, Disorot Media Asing
Giant Python Attacks Indonesian Man before being Eaten
Editor : Ismail Gani
Translator : Novita Cahyadi

PUBLISHED: Kamis, 05 Oktober 2017 , 23:34:00 WIB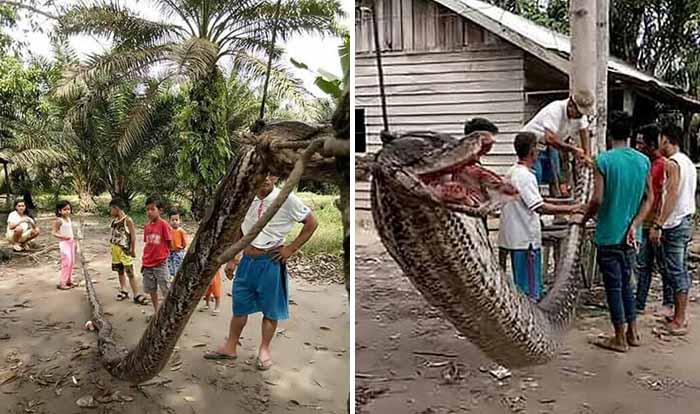 Penduduk setempat yang jengkel kemudian membunuh ular itu dan mengikat bangkai ular di kantor desa sebelum dikuliti, kemudian digoreng dan menjadi santapan lezat warga desa (Foto2: AFP/MailOnline)
SEEKOR ular piton raksasa menyerang seorang Robert Nanaban hingga lenggannya hampir putus, sebelum penduduk desa menolong korban dan kemudian ular tersebut dijadikan santapan oleh warga desa, kata polisi Rabu, kemudian menjadi sorotan media asing.

Robert Nababan yang bekerja sebagai petugas keamanan saat hendak pulang kerja mendapati ular raksasa itu areal perkebunan kelapa sawit di daerah terpencil di Desa Sungai Akar, Kecamatan Batang Gangsal, Kab Indragiri Hulu, Riau.

"Ular piton itu panjangnya 7,8 meter, sangat besar," kata Kapolsek Batang Gangsal Iptu Sutarja.

Sutarja mengatakan Nababan yang berusia 37 tahun, yang terkadang suka makan ular, mencoba menangkap ular piiton raksasa itu dan memasukkannya ke dalam karung goni.

Namun ular besar itu kemudian melawan dan menggigit lengan kirinya, sehingga hampir lepas dari tubuhnya.

Iptu Sutarja mengatakan karena upaya penyelamatan dari petugas keamanan lainnya dan beberapa penduduk setempat, yang salah satunya memukul ular dengan kayu bulat, membantu menyelamatkan nyawa pria tersebut.

Penduduk setempat yang jengkel kemudian membunuh ular itu dan mengikat bangkai ular di kantor desa sebelum dikuliti, kemudian digoreng dan menjadi santapan lezat warga desa.

Ular raksasa, yang panjangnya paling tinggi enam meter, biasanya ditemukan di Indonesia dan Filipina.

Pada Maret, seorang petani Indonesia berusia 25 tahun telah ditemukan di dalam perut seekor ular piton raksasa setelah ular yang bengkak itu tertangkap di dekat tempat pria itu lenyap saat memanen hasil panennya di Sulawesi seperti dikutip AFP yang dilansir MailOnline.
A GIANT python attacked an Indonesian man, nearly severing his arm, before hungry villagers chopped up the reptile and ate it, a police chief said Wednesday.

Security guard Robert Nababan crossed paths with the giant creature while patrolling an oil palm plantation in the remote Batang Gansal subdistrict of Sumatra island on Saturday.

"The python was 7.8 metres long (25.6 feet), it was unbelievably huge," local police chief Sutarja, who like many Indonesians only has one name, told AFP.

Sutarja said the 37-year-old Nababan, who sometimes liked to eat snake, tried to catch the giant python and stuff it in a gunny sack.

But the huge serpent fought back and bit him on his left arm, nearly severing it from his body.

Nababan was then rushed to a hospital in a neighbouring town for treatment.

The police chief said the intervention of another security guard and several local residents, one of whom hit the snake with a log, helped to save the man's life.

Hungry locals later killed the snake and displayed its body in the village before dicing it up, frying it and feasting on it.

Giant python, which regularly top 20 feet in length, are commonly found in Indonesia and the Philippines.

In March, a 25-year-old Indonesian farmer has been discovered inside the belly of a giant python after the swollen snake was caught near where the man vanished while harvesting his crops on the eastern island of Sulawesi.