TKI di Hong Kong Diduga jadi Target Perekrut Radikal ISIS
Hong Kong Maids Lured by Islamic State Recruiters: Report
Editor : Ismail Gani
Translator : Novita Cahyadi

PUBLISHED: Rabu, 26 Juli 2017 , 23:00:00 WIB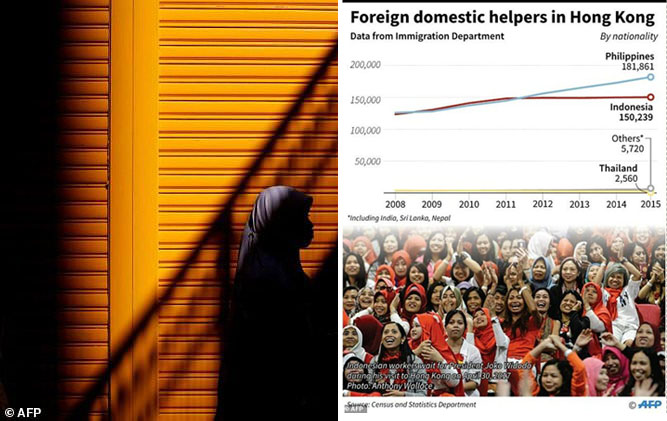 Foto & Data: AFP/MailOnline
TENAGA kerja Indonesia (TKI) yang bekerja di Hong Kong diduga menjadi target radikalisasi oleh kelompok radikal ISIS, seperti dilaporkan lembaga think-tank pada Rabu.

Sekitar 150.000 TKI Indonesia yang bekerja sebagai asisten rumah tangga di Hong Kong berasal dari Indonesia, negara berpenduduk mayoritas Muslim terbanyak di dunia.

Dengan meningkatnya faham konservatif Islam di Indonesia akhir-akhir ini, sejumlah kecil TKI militan mulai muncul, menurut laporan dari Institute for Policy Analysis of Conflict (IPAC) yang berbasis di Jakarta.

Namun aktivis hak asasi manusia dan komunitas Muslim Indonesia di Hong Kong mengatakan bahwa mereka tidak menyadari adanya gerakan radikalisasi dan kekhawatiran terhadap hubungan yang dilaporkan dengan IS akan menimbulkan kecurigaan yang tidak adil.

Investigasi IPAC menggambarkan "radikalisasi" dialami sekitar 45 TKI di Hong Kong, yang diduga tertarik pada kalangan militan setelah melancarkan 'pendekatan khusus terhadap TKI di luar negeri.'

"Beberapa wanita ini ditarik oleh pacar yang merupakan anggota kelompok radikal mereka kenal melalui media sosial," kata analis IPAC Nava Nuraniyah. "Tapi beberapa di antaranya bergabung dengan ISIS sebagai jalan untuk meningkatkan kesejahteraan."

Serangkaian kasus pelecehan telah disoroti atas eksploitasi TKI wanita di Hong Kong oleh agen pekerjaan yang tidak bermoral yang menyita paspor mereka, memotong upah mereka dan membiarkan mereka abai terhadap hak-hak sebagai pekerja.

Namun laporan IPAC mengatakan bahwa perlakuan sewenang-wenang tampaknya tidak memainkan peran langsung dalam radikalisasi, walaupun telah menyebabkan pembentukan kelompok advokasi Islam untuk bertindak sebagai semacam perlawanan.

Perang di Suriah telah memicu minat kelompok militan karena media sosial jihad mengampanyekan simpati terhadap korban dari warga Islam Sunni, kata laporan tersebut.

Diceritakan pula tentang seorang wanita yang beralih menjadi radikal setelah bertahun-tahun menjalani kehidupan sulit dan menjadi sosok penting dalam membantu jihadis Indonesia sampai ke Suriah, kadang melalui Hong Kong.

Beberapa TKI yang bekerja di Hong Kong akhirnya pergi ke Suriah sendiri, kata IPAC, sebuah think-tank terkemuka yang telah menerbitkan banyak laporan tentang konflik di Asia Tenggara.

Radikalisme di Indonesia
Media massa Hong Kong sebelumnya telah melaporkan tentang pendukung ISIS yang membagikan selebaran untuk menolong para pekerja dari Indonesia saat mereka berkumpul di ruang publik di seluruh Hong Kong pada Minggu, saat mereka libur.

Seorang pembantu yang hamil tua yang hilang pada 2015 dikabarkan telah mengatakan kepada teman-temannya bahwa dia berencana untuk berhubungan dengan militan Islam di Suriah bersama suaminya, menurut South China Morning Post.

Masyarakat Indonesia di Hong Kong telah meningkat tiga kali lipat dalam 17 tahun terakhir karena meningkatnya permintaan untuk pembantu rumah tangga, dan meningkatnya kegiatan majelis taklim dan kajian agama Islam.

Namun aktivis hak asasi manusia migran Indonesia dan mantan pembantu rumah tangga Eni Lestari mengatakan ancaman ekstremisme memang mengintai mereka, dia mengaku belum menyadari adanya pendukung ISIS di antara mereka.

"Kami Muslim sebagai penganut Islam dan kami menyelenggarakan banyak kegiatan yang diajarkan Islam ... kami tidak melakukan radikalisasi," kata Lestari kepada AFP.

"Saya pikir sangat tidak adil komunitas pekerja rumah tangga Indonesia dicurigai seperti itu."

Kelompok doa dan kunjungan dari ulama telah menjadi lebih umum di Hong Kong karena meningkatnya "islamisasi" di Indonesia, setelah meningkatnya wanita yang mengenakan jilbab, kata Lestari.

Namun para pekerja dari Indonesia saat ini khawatir pada kegiatan keagamaan saat polisi secara teratur menanyai mereka, katanya.

Seorang TKI di Hong Kong, Romlah Rosyidah, ketua Aliansi Muslim Migran Indonesia di Hong Kong, mengatakan bahwa dia khawatir dengan dampak dari kabar rekrutmen ISIS di Hong Kong.

Majikannya baru saja bertanya kepadanya apakah dia tahu tentang kelompok radikal tersebut, katanya kepada AFP.

Polisi juga datang untuk menyaksikan kegiatan yang diselenggarakan oleh anggota kelompoknya, termasuk mengajarkan cara sholat dan membaca Alquran, katanya.

"Islam tidak ekstrem," tambahnya, seraya mengatakan bahwa dia tidak mengenal ada pendukung ISIS di antara mereka.

Indonesia telah lama berjuang dengan militansi Islam dan ratusan radikal dari negara Asia Tenggara yang gencar melakukan penumpasan terhadap ISIS seperti dilansir MailOnline.
INDONESIAN maids working in Hong Kong are being radicalised by extremists from the Islamic State group, a security think-tank said in a report Wednesday.

Around 150,000 of the city's army of domestic helpers are from Indonesia, the world's most populous Muslim-majority country.

Against a backdrop of growing religious conservatism at home, a small number of militant maids has emerged, according to a report from the Jakarta-based Institute for Policy Analysis of Conflict (IPAC).

But rights activists and the Indonesian Muslim community in Hong Kong said they were unaware of radicals and fear that reported links with IS would breed unfair suspicion.

The IPAC investigation described a "radical fringe" of around 45 Indonesian domestic helpers, who may have been attracted to militant circles by "the search for a sense of community in an unfamiliar environment."

"Some of these women were drawn by jihadi boyfriends they met online," says IPAC analyst Nava Nuraniyah. "But some joined ISIS as a path to empowerment."

A string of abuse cases has highlighted the exploitation of maids in Hong Kong by unscrupulous employment agencies which confiscate their passports, claim their wages and keep them in the dark about their rights.

But the IPAC report said ill-treatment did not seem to have played a direct role in radicalisation, although it had led to the establishment of an Islamic advocacy group to act as a kind of union.

The war in Syria has fuelled interest in militant groups as jihadi social media stoked sympathy for Sunni victims, the report said.

It told the story of one woman who turned to radicalism after years of turmoil in her personal life and became a key player in helping Indonesian jihadis get to Syria, sometimes via Hong Kong.

A handful of maids ended up going to Syria themselves, said IPAC, a leading think-tank which has published numerous reports on conflicts in Southeast Asia.

- Rising `Islamisation` at Home -
Hong Kong media has previously reported about IS supporters leafleting Indonesian domestic helpers as they gathered in public spaces across the city on Sundays, their day off.

One heavily pregnant maid who went missing in 2015 was said to have told friends she was planning to link up with Islamic State militants in Syria alongside her husband, according to the South China Morning Post.

The Indonesian community in Hong Kong has tripled in the past 17 years due to the demand for domestic helpers, and religious teaching and prayer groups have grown alongside it.

But Indonesian migrant rights activist and former domestic helper Eni Lestari said while the threat of extremism was always a possibility, she was unaware of IS supporters among them.

"We are Muslim by religion and we organise a lot of Muslim activities... we don't do radicalisation," Lestari told AFP.

"I think it's really unfair for the Indonesian domestic worker community to be labelled."

Prayer groups and visits from clerics have become more common in Hong Kong due to rising "Islamisation" in Indonesia, which has also seen more women wearing veils, Lestari said.

But helpers were now fearful about organising religious events as police regularly question them, she added.

Domestic helper Romlah Rosyidah, chairwoman of the Indonesian Migrant Muslim Alliance in Hong Kong, said she worried about the impact reported IS links would have.

Her employer had recently asked her if she knew about the radical group, she told AFP.

Police also came to watch activities held by members of her group, which include teaching how to pray and read the Koran, she said.

"Islam is not extreme," she added, saying she did not know any IS supporters.

Indonesia has long struggled with Islamic militancy and hundreds of radicals from the Southeast Asian state have flocked to fight with IS.